Martin Brown, managing director of the Fleet Alliance Group and newly appointed BVRLA Committee of Management member has joined the BVRLA Blogging community to explain the importance of leasing in driving the move to greener road transport.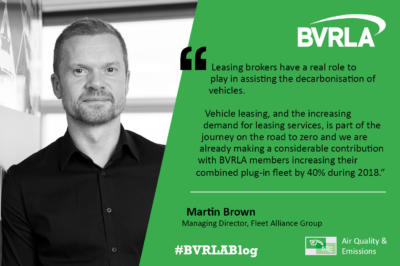 Explaining how the role of the leasing broker is as much about providing advice as it is about providing a product, Martin says:
"Leasing brokers have a real role to play in assisting the decarbonisation of vehicles. While providing customers with the best deals will always be the name of the game, changing the conversation to highlight the benefits of electric vehicles, be it full zero emission EVs or plug-in hybrid electric vehicles, is going to be critical.
"Challenging assumptions, providing guidance and finding innovative ways to fund EVs will be a key role in the move to cleaning up the air we breathe."
Read Martin's BVRLA Blog in full here: The crucial role of vehicle leasing in driving the road to zero