Martin Brown, managing director of the Fleet Alliance Group and newly appointed BVRLA board member from the Leasing Broker Committee, explains the importance of leasing in driving the move to greener road transport.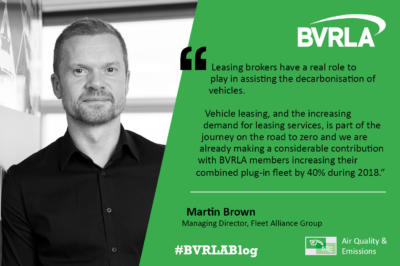 The influence of leasing is growing. Consumers and businesses are beginning to grasp the attraction of using a vehicle for a period of time, rather than actually owning the physical asset.
The leasing broker community has been in the vanguard of this change and continues to drive growth in the leasing market. The total leasing broker car and van fleet grew by 10% in 2018, with a similar 10% growth in new business.
That's significant growth in a short period of time. Leasing is here to stay.
But with that growth in leasing demand comes significant responsibility.
Leasing brokers have a real role to play in assisting the decarbonisation of vehicles. While providing customers with the best deals will always be the name of the game, changing the conversation to highlight the benefits of electric vehicles (EVs), be it full zero emission EVs or plug-in hybrid electric vehicles (PHEVs), is going to be critical.
Challenging assumptions, providing guidance, finding innovative ways to fund EVs - especially in 2020 when we can expect so many new electric models coming to market - will be a key role in the move to cleaning up the air we breathe.
It is essential that we become part of that conversation, part of the new thinking, and embrace what I see as the significant change in attitude towards greener driving. You only have to consider how fast opinion is changing on plastic - from straws in cocktails clubs to food wrap in supermarkets - to comprehend this changing dynamic towards the environment.
So clean air is a key area where we can change attitudes by taking car and van consumers on a journey beyond leasing - but that's only the first step in usership.
The next step in the usership principle is the mobility market. What role can we play there?
How can leasing brokers help individuals and enterprises of all sizes move more effectively, more efficiently and less carbon intensively?
Offering greater flexibility, understanding the demands of personalisation on an individual or business level, are going to be crucial to meeting this demand.
And in an age of increasing digitisation, consumers will be led by their smart phones with apps that can offer multi-modal transport options: where do the opportunities lie for leasing brokers to engage, to play a role and contribute positively in the future of transport?
Vehicle leasing, and the increasing demand for leasing services, is part of the journey on the road to zero and we are already making a considerable contribution with BVRLA members increasing their combined plug-in fleet by 40% during 2018.
It's exciting, challenging and likely to be fast-paced and multi-faceted.
Brokers will continue to play a key role in delivering the UK's zero-emission ambitions and I look forward to the challenge, along with rest of the leasing sector, to getting down to zero. And the sooner the better.
Share this blog via your own channels:
Members can download the social media image resources available for free from our Communications Toolkit. Don't forget to tag us #BVRLAblog @bvrla.