Marcia Scott, Head of Service Delivery at Manheim Inspection Services explains how blending practical and traditional methods is aiding learning on BVRLA's Fair Wear & Tear course.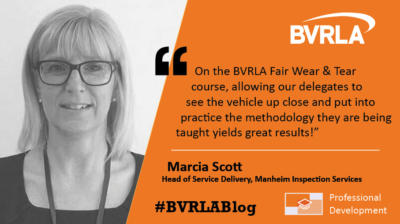 I'm part of the team at Manheim who has moved to a new way of maximising the learning experience for delegates, proving very successful with attendees on the BVRLA Fair Wear & Tear course.
It's well-known that people learn in different ways and finding out about individual learning styles is a powerful tool for a trainer. In most cases, our delegates prefer to learn by doing.
On the BVRLA Fair Wear & Tear course, allowing our delegates to see the vehicle up close and put into practice the methodology they are being taught yields great results!
Blended learning programs are growing in popularity as instructors like ourselves seek to create personalised experiences that combine face-to-face learning with online instruction and scenario-based activities, which maximises learning outcomes.
Most delegates who join the BVRLA Fair Wear & Tear course appreciate they may sometimes have difficult conversations with the vehicle hirers, as end of lease return standards need to be explained in a way that shows they are being fair and transparent. Understanding the standards is just a small part of the process.
My colleague who delivers the course has several years of experience in participating in these types of interactions, and we've created scenario-based activities using real examples where vehicle hirers have asked the BVRLA to adjudicate on claims. This illustrates how the process works, demonstrating each point in turn, and my colleague is on hand to answer questions. Most delegates have their own experiences that they want to share in this forum.
We advocate that inspecting a vehicle in a standard way is the key to success. We use a variety of training tools including presentations, audio, written exercises and practical learning to help our delegates establish a standard inspection routine, whatever their learning style.
We want our delegates to leave feeling confident that if they repeat the same methodology, they're less likely to miss parts of the routine. The output of this will be consistent inspections that demonstrate a fair assessment of the standard.
Most of the science around identifying the correct standards is being able to say what you see and to explain it in a way that's easy to understand. To practice this skill, we use visual aids and logical brain teasers so delegates can appreciate that sometimes the glaringly obvious isn't that easy to spot. We liken damage size to items like golf balls, tennis balls and beach balls. These techniques create a lasting picture which helps when putting methodology into practice.
I'm incredibly proud of the way we've embraced the latest learning and development best practice to create a course that really delivers for our delegates. In my view, the theory behind blended learning just makes sense, and I'd like to see more training providers offer learning experiences that create a personalised experience which plays to the strengths of individual learners.
Find out more about the BVRLA Fair Wear & Tear training course.
Share this blog via your own channels:
Members can download the social media image resources available for free from our Communications Toolkit. Don't forget to tag us #BVRLAblog @bvrla.