Steve Bloor, Technical Director at Consumer Credit Advisory Services, who delivers SM&CR training to BVRLA members, talks about the continuous journey of SM&CR that goes way beyond 9 December.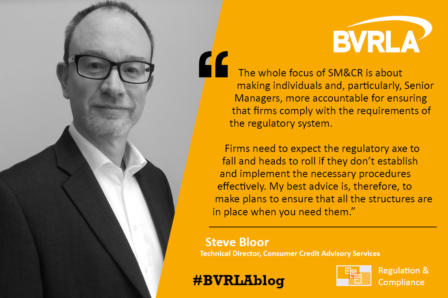 With the rapidly looming deadline of 9 December for the first stage of implementation of the new Senior Managers & Certification Regime (SM&CR), it's not surprising that firms are heavily focusing on the actions they need to take before that date. But it shouldn't be a short-term sprint to a finishing line on 9 December, it is a long-term journey that stretches far beyond that date.
So, what are the implications for firms after 9 December 2019? Well, these fall into two categories; Steps that firms must take before 9 December 2020 when SM&CR comes into effect, and actions that firms must take on an on-going basis into the future. Firms need to be plan for both.
By December 2020, for the few consumer credit firms that have Certification staff, those firms must have completed their fit and proper assessments. However, by that date, for all types of firms, all employees (excluding a few ancillary staff) must have been trained on the new Conduct Rules, which apply to both regulated and non-regulated activities. Firms will be required to demonstrate that staff have been appropriately trained, particularly as, for Core and Enhanced firms, there will be a Senior Manager with a prescribed responsibility for ensuring the training is delivered.
On an on-going basis, there is a long list of tasks that firms will have to complete. They will need to develop the appropriate procedures and decide who within the firm will be responsible for each of the tasks. The tasks include:
Conducting on-going fit and proper assessments for Senior Managers, Certification staff and Non-Executive Directors.
Reviewing and updating Statements of Responsibilities, including notifying the Financial Conduct Authority (FCA) of significant changes.
Establishing and implementing procedures for the appointment of Senior Managers, Non-Executive Directors and Certification staff including, where appropriate, conducting Disclosure & Barring Service checks.
Recording and reporting to FCA breaches of the Conduct Rules.
Providing regulatory references in the prescribed format where requests for references are received from other firms. These references will need to cover at least the last six years.
Providing updated references where new information comes to light after a reference has been given.
Delivering on-going training on the Conduct Rules.
Updating and implementing revised compliance monitoring plans in order to include SM&CR related activities.
That's a lot of commitment for firms. And bear in mind that the whole focus of SM&CR is about making individuals and, particularly, Senior Managers, more accountable for ensuring that firms comply with the requirements of the regulatory system.
So, firms need to expect the regulatory axe to fall and heads to roll if they don't establish and implement the necessary procedures effectively. My best advice is, therefore, to make plans to ensure that all the structures are in place when you need them.
View the BVRLA's SM&CR Factsheet which includes guidance on the three main sections of the regime - Senior Managers, Certification and Conduct Rules. Plus examples of Statements of Responsibilities and practical application to a leasing broker business.
Share this blog via your own channels:
Members can download the social media image resources available for free from our Communications Toolkit. Don't forget to tag us #BVRLAblog @bvrla.