The BVRLA's #SeeTheBenefit campaign has hit a milestone of over 1,000 letters going to MPs. The campaign is urging the Chancellor to support the uptake of electric cars by keeping Benefit-in-Kind rates low and giving foresight beyond the current 2024/25 cut off.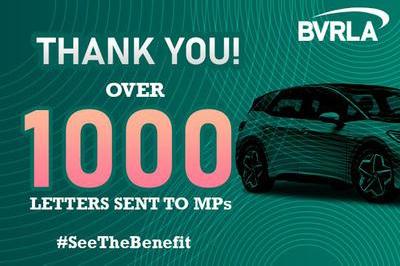 The association's #SeeTheBenefit campaign highlights the success of the tax regime for electric cars to date, encouraging members to write to their local MP to educate them on how company car schemes are vital in the move to EVs.
A key part of the campaign is an event for MPs next week, where a selection of industry experts from the BVRLA, Octopus Electric Vehicles, Tusker, and Zenith will host a drive-by event outside the Houses of Parliament. The event will highlight the positive outcomes that will come with more years of tax foresight, keeping BEV BiK rates low, and staggering any increases to avoid a sudden hike. MPs will be asked to pledge their support to the #SeeTheBenefit campaign and encourage the Chancellor to act in the Autumn Budget.
Via a convenient template on the BVRLA website, letters can automatically be created and issued to MPs, sharing the positive results seen by the current low levels of BiK tax and warning of the detrimental impact that raising rates by too much too quickly will have on the UK's Road to Zero.
Full details of the campaign can be found on the BVRLA website. Anybody looking to share the pre-written letter can do so via the online form. Only requiring the individual's name, email and postcode, a letter can be generated and shared with their local MP in moments.
Thank you to all the supporters so far!