Giles Benbow, Head of Fleet Transition at Mer, looks at the challenges and opportunities facing fleet managers as they gear up to switch to electric vehicles ahead of the Government's accelerated deadline on a ban on ICE sales.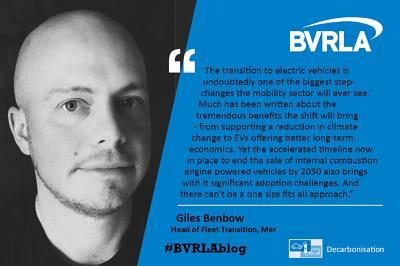 The transition to electric vehicles is undoubtedly one of the biggest step-changes the mobility sector will ever see.
Much has been written about the tremendous benefits the shift will bring - from supporting a reduction in climate change to EVs offering better long-term economics.
Yet the accelerated timeline now in place to end the sale of internal combustion engine powered vehicles by 2030 also brings with it significant adoption challenges.
While those adoption challenges are complex, they boil down to three key things, as this BVRLA blog by EV Fleet World editor Martyn Collins outlines:
Tax and financial incentives to support businesses and consumers to make the switch to EVs
Work to ensure the UK remains a competitive market for OEMS and vehicle manufacturers
And a comprehensive strategy on charging infrastructure.
It's the last area of those that Mer focuses on - how, where, and importantly, when all these new electrically powered cars and vans will be charged.
The latest projections by The Policy Exchange think-tank - published in their 'Charging Up' report in February this year - suggest the country will need 400,000 public chargers by 2030 to meet demand, up from the 35,000 now in place.
However, when it comes to commercial fleets, the charging infrastructure itself is just one piece in a complicated - yet solvable - problem. The solution is going to be driven in part by technology and in part by optimisation.
When it comes to wide-scale fleet electrification, assessing the granular detail of fleet operations has never been so important. Accelerating the transition means data-driven decision making, identifying the most suitable candidates, adapting operations to facilitate the transition, optimising energy and infrastructure costs to reduce Total Cost of Ownership (TCO).
There can't be a one-size-fits-all approach - each business will need a strategy that meets its operational and financial needs.
The recharging ecosystem for any business, centres around where the vehicle is located when it isn't working (sleeping). Some fleets will rely on residential or decentralised (public) charging. Others that centre on the depot will require multiple chargers and, in many instances, hefty grid infrastructure upgrades.
Then there's the financial equation - from rented units to fully managed services, million-pound investments to shared revenue or £/mile solutions, and everything in between. Because the refuelling of vehicles is moving to the business car park or depot, and because this change is new and growing, the sustainability of the solution - from scalability to choosing renewable energy sources - must be hard-wired into every business plan too.
This is partly a technological solution, but there's another area where technology is needed to solve a problem too - and that's around operational efficiency.
What do we mean by operational efficiency? Well, take a commercial fleet of EVs - in simple terms, we mean that every time you plug your EV in to charge, it should happen as a part of an optimised charging schedule. Or, to put it another way, as a business you should never have to plug the EV in unplanned - as that's time when the assets aren't working efficiently.
To get to that point, fleet managers need tools to plan the fleet's energy requirements and charging schedule automatically and comprehensively. Technology solutions, like Mer's Fleet Portal, allow business leaders to optimise the operations of their fleet in real-time. Complex AI-powered algorithms take in all the data and dependencies (route planning/dispatch tools, vehicle telematics and energy market signals) and create a charging schedule to ensure each vehicle has the optimal energy for its purpose.
It's infrastructure-as-a-service - but given the costs involved for fleet owners transitioning to EVs, this kind of operational optimisation integrated with other logistics tools will be key to driving commercial EV adoption ahead of the 2030 deadline.
Share this blog via your own channels:
Members can download the social media image resources available for free from our Communications Toolkit. Don't forget to tag us #BVRLAblog @bvrla.