Martyn Collins, Editor of EV Fleet World digital magazine, looks at the impact to fleets following the announcement of the 2030 petrol and diesel car ban.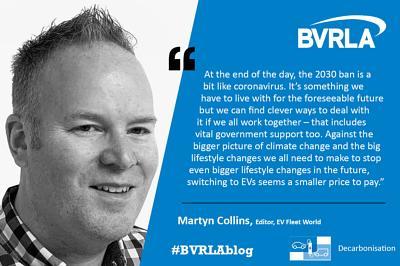 As if the fleet sector had not faced enough with the coronavirus pandemic over this last year, the industry saw another epochal moment with the Prime Minister's announcement on the 2030 ban on sales of new petrol and diesel cars and vans.
Widely expected and part of the PM's 10-point plan for a 'green industrial revolution' to support recovery from the pandemic, it's a major fast-track from the previous 2040 date – although hybrids get a five-year reprieve will be supported by an investment of more than £2.8bn in electric vehicles, including £1.3bn to accelerate the rollout of charge points and £582m in grants covering zero or ultra-low emission vehicles.
The new date for the ban is already dividing the fleet and automotive sectors, condemned by some and applauded by others; including a coalition of major UK fleets that had already said this summer that 2030 is actually an achievable target. Now that the date has been confirmed, the UK Electric Fleets Coalition, run by international non-profit organisation The Climate Group in partnership with BT Group and also including Royal Mail, Centrica, SSE and DPD, has said it's encouraging to see the Government "address the biggest issue of our time".
However, it's reiterated fundamental points from its policy paper this summer that barriers remaining to take-up must be addressed to ensure everyone is on board by 2030; including stimulating supply, driving demand and investing in infrastructure.
It's a common message from across the industry. The Society of Motor Manufacturers and Traders' (SMMT) chief executive Mike Hawes said we need a "fully funded strategy that mandates a massive investment in infrastructure, helps all consumers to make the switch and supports a competitive UK industry".
And the BVRLA itself has welcomed a phased approach – it had previously warned a single date would be a mistake – and chief executive Gerry Keaney said that while 2030 is an extremely aggressive phase-out target, it's one that will be embraced by many drivers and fleet operators.
But Keaney has also said that setting the dates is just the start of the journey and pointed out that there are three support areas that the Government must focus on: a set of powerful tax incentives and grants that will drive demand across all segments of the UK fleet and retail automotive market; work to ensure that the UK remains an attractive market for OEMs to sell their products; and finally implementing a comprehensive strategy on charging infrastructure.
The latter is one that's been underscored by research gathered by us in our new online EV fleet-focused magazine, EV Fleet World Digital. This has proved that there is still a long way to go with charging infrastructure too. Although there are in the region of 11,000 charging locations in the UK (source: edfenergy.com), this number flatters to deceive, according to Sam Clarke, chief vehicle officer at Gridserve Sustainable Energy. "Of those locations, only 20% constitute 'rapid charging,' which in reality is a 1-2-hour charge from empty to full," he has said. Moreover, these locations can typically cater for one or two vehicles at a time which, based on the trajectory of vehicle electrification, is not nearly enough.
Stepping aside from the charging issues, Alan Bastey, customer relationship director and EV specialist at Zenith, has rather poignantly said that all within the industry have a role to play to help fleets make the switch – a view that we share at Fleet World and are extremely keen to take a stake in ourselves.
At the end of the day, the 2030 ban is a bit like coronavirus. It's something we have to live with for the foreseeable future but we can find clever ways to deal with it if we all work together – that includes vital government support too. Against the bigger picture of climate change and the big lifestyle changes we all need to make to stop even bigger lifestyle changes in the future, switching to EVs seems a smaller price to pay.
Finally, unlike the pandemic, there are notable silver linings to the 2030 ban; from the unique and sublime driving experiences that EVs offer through to the reduction in noise pollution and more convenient charging, to the lower running costs.
We're at the start of a journey now. But the destination is truly worthwhile and we'll get there if we're all on board.
Share this blog via your own channels:
Members can download the social media image resources available for free from our Communications Toolkit. Don't forget to tag us #BVRLAblog @bvrla.