Amie Darby, Head of Administration at LeaseCar UK talks about how she found BVRLA's Internal Audit a valuable source of information and advice, reaffirming the firm's compliance processes.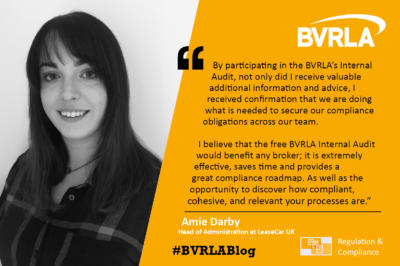 In a world where compliance drives the future of our businesses it's easy to forget to use the resources that are so readily available to us. It's no secret that firms now need to step it up a gear when it comes to regulations, GDPR, cybercrime and so on. Even businesses that are already compliant must make sure they can evidence it.
Whether or not you feel comfortable that you've developed sufficiently robust compliance procedures to satisfy the relevant bodies, why would you miss the opportunity to check, or indeed even improve, your existing compliance regime.
After hearing about the BVRLA Internal Audit, I couldn't see a downside. As a business, like so many others, we've put a lot of work into our compliance processes and procedures. However, it can be difficult to know if you meet the expected standard, as with a lot of areas in business there is no definitive rule book. Never one to let the grass grow under my feet, I requested further audit information from the BVRLA and the process couldn't have been easier.
We agreed that I would send over any policies for review and that the BVRLA would have a look at our website. I sent an awful lot of information over to and in a short space of time I received a response from the compliance team. I dealt primarily with Hayleigh and I cannot fault her professionalism, knowledge and friendly approach. She skilfully guided me through a few improvements to our current processes and was more than happy to answer my questions. It was nice to feel that someone was on our side and wanted to help.
In the occasionally overwhelming world of compliance it's not always easy to know if you've got it right, or find someone that you can trust to ask all of those weird and wonderful questions that you think everyone else understands but you!
As the Head of Administration at LeaseCar UK I wanted not only to improve our policies and systems but to be absolutely reassured that what we're doing is right. Having the confirmation that you're on the right track is priceless. Our days are often hectic and it is easy to get bogged down in the current onslaught of regulatory requirements.
Finding the time to read, absorb, process and implement, let alone embed it all, can be daunting to even the most seasoned compliance manager. By participating in the BVRLA's Internal Audit, not only did I receive valuable additional information and advice, I received confirmation that we are doing what is needed to secure our compliance obligations across our team.
I believe that the BVRLA Internal Audit would benefit any broker; it is extremely effective, saves time and provides a great compliance roadmap. It is a fantastic (and impressively, free) opportunity to discover how compliant, cohesive, and relevant your procedures and processes are.
A great opportunity to get professional and supportive assistance to help you stay ahead of the game.
To book an internal audit contact compliance@bvrla.co.uk
Share this blog via your own channels:
Members can download the social media image resources available for free from our Communications Toolkit. Don't forget to tag us #BVRLAblog @bvrla.