The UK light commercial vehicle (LCV) market declined by -27.6% to 40,613 units in March, according to the latest figures published by the Society of Motor Manufacturers and Traders (SMMT).
Newly registered large vans, which represent more than two thirds of the LCV market, totalled 29,230 units, -18.9% on March last year, while medium-sized vehicles weighing greater than 2.0 tonnes to 2.5 tonnes declined by -27.6%. Small vans, meanwhile, decreased by -70.8% and pickups by -48.4%.
Battery electric vans continue to attract interest as businesses renewing their fleets look to meet tighter air quality regulations in urban areas, with registrations rising by 17.7% year-on-year to 1,909 units. Compared with Q1 last year, electric van uptake increased by 68.9% to a market share of 5.8%, more than double a year ago but still some distance behind fully electric passenger cars.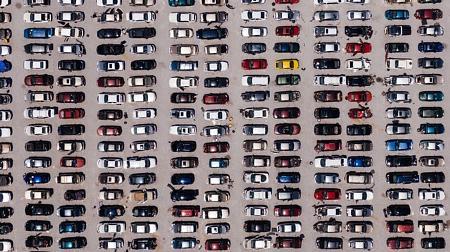 Meanwhile, UK new car registrations fell by -14.3% to 243,479 units in March. Making it the weakest March since 1998, which was prior to the introduction of the two-plate system. Given around 20% of total annual registrations are usually recorded in March, the result is disappointing for the sector.
While private registrations grew by 8.2% in the month, large fleet registrations, meanwhile, declined by -34.4% as manufacturers prioritised private consumer and smaller business orders.
Responding to the latest data, BVRLA Chief Executive Gerry Keaney said: "The supply chain challenges that beset our industry show no sign of abating, and their impact on the fleet sector is being amplified by manufacturers prioritising other channels. This short-sighted approach will cause broader issues across the industry. A healthy fleet sector brings stability through long-term contracts, while accelerating the adoption of new technologies and bringing cleaner vehicles to the UK's roads.
"As a result of restricting vehicle supply to the fleet sector, the inevitable consequences are going to be increased costs to businesses, reduced choice to drivers, and higher emission levels. The shift away from fleet has gone too far and needs to be addressed before the impacts are seen on an economic and environmental scale."