As the year ends, BVRLA Chief Executive Gerry Keaney looks back on 2020 with all its change and challenges and looks ahead to priorities for 2021.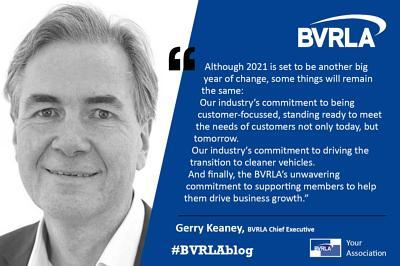 Last year, I spoke about the 'ABC of change', predicting that air quality, Brexit and changing business models would be the three core drivers of change impacting the fleet sector during 2020.
When writing those words, I could not have predicted the extent to which change would feature. Nor could I have anticipated the level of challenge that 2020 would bring.
We have all had to adapt in response to a global health pandemic, the fall out of a national recession and a series of local lockdowns. It has been a true 'annus horribilis'.
The Covid-19 pandemic continues to bear down hard on businesses of all sizes, affecting industries, communities and families - changing the way we live and work.
The BVRLA family acted quickly, adapting our own business processes in March to ensure that we could continue to support members. Working together, and with others, we responded as best we could to protect the interests of our members and their customers.
Having a solid foundation of policy priorities and strong relationships in place, our influence with policymakers brought direct and tangible benefits to members.
We obtained a closure exemption for the rental sector enabling them to continue operating during lockdown, ensured that motorhomes and campervans were included within scope of the VAT reduction, and secured removal of the VED surcharge for BEVs over £40,000, as well as obtaining longer-term clarity on company car taxation.
Access to ministers and policymakers has been further enhanced by digital working. This was particularly evident at our Fleets in Charge event, which saw around 500 guests be addressed by the Transport Secretary, Business Minister, Cabinet Office and OLEV officials, CBI and many senior industry leaders. A stellar line up for our first ever digital conference.
Accelerating the drive to digitisation has been one of the few positive impacts of the pandemic, progressing our use of technology in six months to a level that may have otherwise taken six years.
This year has been tough, but next year could be even tougher so we must continue work to anticipate upcoming issues and be well placed to respond to them.
The ABCDE of change
Agility – The ability to respond and adapt, in a timely manner, to the changing economic, societal, and regulatory landscape will remain crucial.
Whilst the rental sector may continue to suffer the loss of custom from tourists, they could benefit from short-term opportunities from business customers who may not feel confident to commit to longer term leases. Conversely, leasing companies could see a shift towards greater levels of B2C custom with the crisis expected to further accelerate the growth of Personal Contract Hire.
Business recovery – The need for business support has never been greater. Not only fiscal, but also advice, guidance, mentoring and having the support of industry colleagues, providing the reassurance that you are not alone.
Covid-19 – Finding new and different ways of working will continue, as will the growth of a remote working culture with people rethinking their locations and businesses reconfiguring their workplaces to keep staff and customers safe. Skills requirements may also change to reflect new ways of working.
Decarbonisation – The ability to deliver the UK's road transport decarbonisation goals rests in the hands of the fleet sector and our members are already leading the transition to cleaner vehicles. They are responsible for over 5 million of the cleanest vehicles on UK roads, buy around 80% of all BEVs sold and are the single largest supplier of nearly new vehicles into the used market. Our purchasing power and short fleet cycles gives us a lot of skin in the game.
We also have a lot of expertise and as more Clean Air Zones emerge, an increasing number of business and personal customers will be looking to BVRLA members for expert advice.
EU Exit – This will continue to be a core driver of change. Businesses are being encouraged to prepare now, but with so much still uncertain, industry can only go so far. As new rules and regulations emerge, members will need to respond and the BVRLA will be on hand to support them.
Although 2021 is set to be another big year of change, some things will remain the same:
Our industry's commitment to being customer-focussed, standing ready to meet the needs of customers not only today, but tomorrow.
Our industry's commitment to driving the transition to cleaner vehicles.
And finally, the BVRLA's unwavering commitment to supporting members to help them drive business growth.
Share this blog via your own channels:
Members can download the social media image resources available for free from our Communications Toolkit. Don't forget to tag us #BVRLAblog @bvrla.