BVRLA members took its Road to Zero message to the heart of government last week, urging the new Prime Minister to do more to faster accelerate decarbonisation and improve air quality.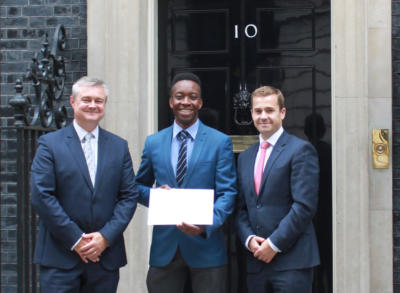 Joined by Richard Jones, Managing Director at Lex Autolease and Gary Smith, Managing Director at Europcar Mobility Group UK, BVRLA's Government Affairs Manager Paul Thompson handed in a letter to 10 Downing Street.
The letter named 46 parliamentarians who supported the major recommendations outlined in the BVRLA's Road to Zero Report Card launched at the association's summer Parliamentary Reception in the House of Commons.
After the Downing Street visit, BVRLA representatives attended a meeting with senior officials from HM Treasury, the Department for Transport and the Office for Lower Emission Vehicles to discuss the leasing and rental sectors' role in decarbonising road transport.
A case was made for government to do more on tax, electric vehicle (EV) infrastructure policy and the supply of EVs, to better incentivise the fleet sector and enable it to accelerate delivery of the Road to Zero strategy.
Read the BVRLA's Road to Zero Report Card.
Gary Smith has recently joined the BVRLA blogging community. You can read his blog here: Moving to electric: The challenges and way forward.