Gary Smith, Managing Director at Europcar Mobility Group UK looks at the move from private car ownership to a range of more sustainable solutions and the joined up approach needed to convince consumers.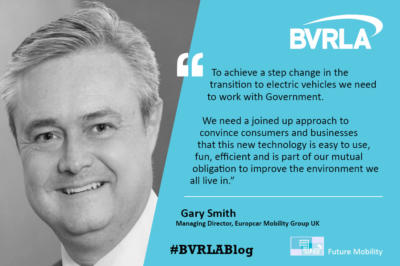 The future of mobility will see a move away from private car ownership to a range of more sustainable solutions, for example, public transport to work, but car rental or car club for weekend trips. I am determined that Europcar Mobility Group UK will support this transition to reduce congestion and emissions and improve air quality.

Car rental and car clubs are the easiest way for consumers to trial new technologies, particularly electric vehicles (EVs). But in managing the move to EVs, we have encountered a range of challenges that the Government needs to act to address.

In 2015, Europcar UK committed to move 5% of our fleet of 50,000 cars and vans to low emission vehicles by 2020 and we now have 3,500 hybrid and EVs. We have achieved this figure, in part by integrating EVs into our operations for example through EV delivery and collections. We have also been working with partners ranging from Go Ultra Low to Transport for Greater Manchester to challenge business and consumer perceptions of EVs by enabling them to trial the technology with roadshows and EV rental vehicles across the country.

It is still a struggle to encourage consumers to try renting EVs. But the first step, is to make sure we have such vehicles available across the country. So at Europcar Mobility Group UK, we plan to electrify our rental station network in order to speed up the transition to EV. However, integrating this new technology onto our mainstream fleet comes at a commercial cost because we not only have to install the chargers but also, where required, have to pay for new feeder pillars; new distribution boards; and even new Sub Stations. In some cases, these additional costs mount up to £100,000 for an individual rental station which can be a game-changer in terms of the commercial viability of such a decision.

We are also driving change in our car sharing operation, Ubeeqo, which includes the UK's first entirely electric car sharing business "E-Car". Ubeeqo has a growing fleet of car club vehicles in London, now serving ten boroughs and is eager to increase the proportion of EVs on its fleet. However, the limited availability of suitable charging facilities in the capital continues to make rolling out more EVs problematic. So rather than stand still, Ubeeqo is exploring new ways of operating EVs on its fleet including the testing of Vehicle 2 Grid technologies, which can enable the car battery to contribute to the Grid at peak times while charging up when demand is low. We are also looking at lamp column charging systems and working with local authorities to provide EVs for residents to try at no cost.

The costs associated with EVs together with consumer wariness are huge barriers to progress. To achieve a step change in the transition to EVs we need to work with Government. I have proposed that the Department for Transport should create a working group to look at whether the costs for companies installing the charging infrastructure for electric vehicles could be pooled or shared with local government. If you have encountered these problems yourself, I'd encourage you to follow our example and write to the new Minister, George Freeman MP to urge action. HM Treasury should also adopt a long-term plan to modernise vehicle taxation policy and support a zero-emission environment.

The good news is the Government does now appear to have this issue on its radar and in the recent spending round again indicated there would be more funding to meet the net zero commitment by 2050. We just need a joined-up approach and to convince consumers and businesses that this new technology is easy to use, fun, efficient and is part of our mutual obligation to improve the environment we all live in.
Share this blog via your own channels:
Members can download the social media image resources available for free from our Communications Toolkit. Don't forget to tag us #BVRLAblog @bvrla.