As another year full of ups and downs ends, BVRLA chief executive Gerry Keaney looks at some of the key barriers the association has overcome, while also looking ahead to the challenges to be faced by the industry in 2022.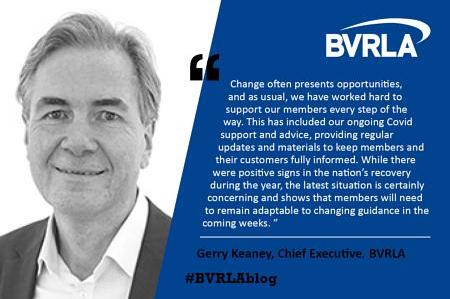 In looking back over the last year, our industry can be immensely proud of the progress it has made. 2021 was always set to be a turbulent year as the UK economy and global supply chains came to terms with the impact of the Covid-19 lockdowns and ensuing recovery.
Once again, the only thing we have been able to predict with any certainty has been change.
Change often presents opportunities, and as usual, we have worked hard to support our members every step of the way. This has included our ongoing Covid support and advice, providing regular updates and materials to keep members and their customers fully informed. While there were positive signs in the nation's recovery during the year, the latest situation is certainly concerning and shows that members will need to remain adaptable to changing guidance in the coming weeks.
Even though the health and economic crises of 2020 and 2021 are still causing disruption across the country, the UK Government has re-doubled its policymaking to catch-up on lost time. This presented us with an avalanche of opportunities to engage with decision makers and help shape the business and transport landscape of tomorrow.
Built on the foundations of detailed member input and data, strong policy thought leadership, and collaborative relationships across Government and the wider automotive industry, the BVRLA made a real impact in 2021. Notably, we have:
Successfully lobbied for a 2035 Phase-out Delivery Plan

Secured £620m funding for targeted plug-in grants and charging infrastructure, through our Van Plan Campaign

Led to the launch of OZEV's new Used ZEV Market Forum with our used BEV campaign

Ensured that the role of shared mobility was recognised in the Transport Decarbonisation Plan

Successfully campaigned for the Advisory Electric Rate (AER) to be increased and regularly reviewed
Beyond this, our influence with decision makers has grown and we are sitting at more top tables to make the voices of our members louder than ever.
In addition to regularly engaging with ministers on topics including Brexit, Covid and Decarbonisation, we have been active members of the EV Energy Taskforce Steering Group, Road Transport to Transition panel, and the Green Finance Institute's Coalition for the Decarbonisation of Road Transport. Quarterly engagements with the FCA are also keeping us closer to the financial factors that are having an impact on our members.
This work is helping us to make politicians sit up and take notice, showing them how the leasing and rental sectors will be the engines that propel the nation to its Net Zero targets. We are getting more questions asked in parliament, progressing those discussions and leading to the BVRLA advising ministers in a recent Select Committee on the future of road pricing.
While representing member views in the corridors of power to influence the future of the industry, the BVRLA has consistently evolved an extensive learning and development programme to support members in their roles today. This has included the introduction of 11 new courses in 2021, an example of which is our Penalty Charge Notice masterclass, providing real-world support to help members tackle a genuine pain point that impacts their bottom line.
Looking ahead to 2022, we should all prepare for another bumpy ride, full of unpredictable twists and turns. On the automotive front line, BVRLA members look likely to grapple with supply issues for some time yet – whether it is new vehicles, skilled staff or appropriate charging infrastructure.
Those supply issues, in conjunction with the threat of tighter restrictions as Covid cases are back on the rise, will combine to make the early months of 2022 exceptionally difficult. Question marks also remain around the nation's regulatory landscape, with a great deal of change in the air.
Your association has no silver bullets for these huge challenges, but it does have a dedicated and passionate team that will hit the ground running in 2022, determined to address or alleviate them.
BVRLA members have always been adaptable, resilient, and innovative, traits that have become even more prominent through 2021. I have every confidence that those positives stand the sector in excellent stead going into next year.
Alongside this, the BVRLA's unwavering commitment to supporting members remains, and we look forward to continuing to work closely with our members to drive growth in 2022 and beyond.