Kenneth Malmberg, Senior Director, Market Development and Alliances at Ridecell EMEA GmbH looks at automotive and mobility changes that have been accelerated by the Covid-19 pandemic and consequent shift in consumer mindset.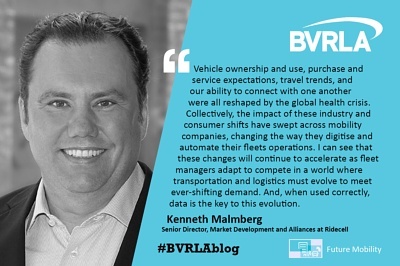 The automotive and mobility industries have undergone significant changes, some spurred on and accelerated over the last year by the fallout of the COVID-19 pandemic. Vehicle purchases became further digitised, new OEMs entered the market, and existing electric vehicle manufacturers increased production.
Arguably, the biggest pandemic-driven disruption in these industries was the consumer mindset shift. Individual behaviours and attitudes toward mobility changed dramatically. Vehicle ownership and use, purchase and service expectations, travel trends, and our ability to connect with one another from a distance were all reshaped by the global health crisis.
Collectively, the impact of these industry and consumer shifts have swept across mobility companies, changing the way they digitise and automate their fleets operations. I can see that these changes will continue to accelerate as fleet managers adapt to compete in a world where transportation and logistics must evolve to meet ever-shifting demand. And, when used correctly, data is the key to this evolution.
Fleet management requires a delicate balance of right place, right time, right vehicle. Each vehicle has to be properly maintained and ready for passengers when and where they need it. It sounds simple, but most fleet owners invest millions in turning raw data into insights. These investments have resulted in an overwhelming number of insights and notifications, creating an entirely new problem — notification overload.
To overcome notification overload, fleet managers need to be able to turn manual tasks into automated workflows that can resolve issues rather than merely report them. The fleet managers need to be able to create rules for e.g., maintenance and repair jobs that can be triggered when certain data conditions are identified. For instance, if the check engine light is on, an algorithm can interpret the fault code and then automatically create and dispatch the appropriate repair action.
Consumer mobility behaviour will likely never return to the level of predictability we saw pre-pandemic. Work-from-home and hybrid offices have transformed commutes. Digital vehicle control – meaning moving to fully keyless access – paired with automated insights represents a key opportunity to optimise fleets for unpredictable consumer needs. Fleet managers can issue keys digitally to drivers and support staff using smartphones or NFC fobs, remotely prevent vehicle restarts, and easily automate the ability to change a vehicle's state from available to unavailable as needed.
Despite the health risks and increased isolation we all experienced over the last year, vehicle thieves were unfettered. In fact, the rate of stolen vehicles rose in the UK during 2020 with DVLA figures showing 74,769 cars reported stolen, which is almost 20,000 more than in 2019. Also with the introduction of BSi PAS-29000 guidelines, fleet operators need to increasingly focus on sufficiently securing their vehicles against malicious use.
Thanks to greater digitisation, fleet owners can protect their fleet around the clock. Fully automated security management solutions can disable digital keys, remotely trigger vehicle immobilisation, and notify authorities. Location and status sharing make it possible for authorities to quickly locate and recover a stolen vehicle. The Office for National Statistics report that currently only 28 per cent of stolen cars are ever recovered and returned to their owners.
Existing technology available to fleet owners is great for sharing data about the fleet. But having visibility is not enough. We have to be able to take action on data to automatically address issues in real time. Marrying data insights with automation not only builds long-term sustainability for the fleet, it also reduces the cost per vehicle and raises revenue. The Ridecell Fleet IoT Automation solutions modernise and monetise fleets by combining data insights with digital vehicle control. The result is unmatched levels of efficiency and control for shared services, motorpools, rental, and logistic fleets.
If your fleet is stuck in data collection mode, now is the time to explore how actioning that data could improve fleet orchestration, increase vehicle automation, and keep vehicles secure.
Share this blog via your own channels:
Members can download the social media image resources available for free from our Communications Toolkit. Don't forget to tag us #BVRLAblog @bvrla.