Anthony Flack joined Auto Platforms – the supplier of Motor.Lease – last year, having previously worked in the banking sector. Here, he gives a whistle-stop review of his observations on the broker sector and importance of utilising leasing software effectively.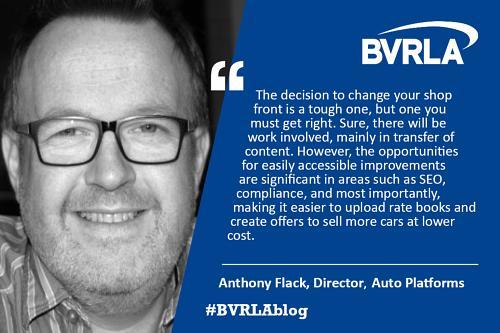 Unlike many of you reading this, I've not had numerous years' experience or multiple roles in automotive. Instead, a 25-year career in Financial Services with a five-year stint in Management Consultancy in between, and the last 10 years working in digital with responsibilities for websites, mobile apps, chat bots, sales conversion, customer services and CRM.
When looking around the automotive sector, it strikes me that many things look the same. This is certainly true in retail and, to an extent, leasing too. It is remarkable to note the number of people who in one way or another have always worked in this space and have invaluable expertise. This brings with it numerous benefits, as well as an unconscious acceptance that things should happen in a certain way. Undoubtedly this gets in the way of innovation, but at the same time presents opportunities for new entrants to shake things up, challenging the traditional model.
There are still a surprising number of brokers out there whose websites, at best, only act in an informational capacity, conveying that they do lease cars and providing contact details. When speaking to a couple of such brokers, the explanation is that they rely on personal service, either face to face, or on the phone, and the website is of secondary importance.
Unfortunately, this also conveys a handful of other things, the lack of awareness of the vital role of digital, under investment from the company, and wider operational inefficiencies. These are compounded by the misunderstanding that digital means you cannot provide personalised services.
Forward-looking brokers and those with improved longevity recognise the critical role digital must play. They continually look for ways to move more vehicles with the same or fewer people, with straight-through processes (well nearly) supported by digital. In banking, the mantra is mobile first with automation where possible, trying to make sure the process of onboarding is as light and frictionless as it can be. This all has to happen at the same time as having to deal with compliance, financial crime etc. – sound familiar?
For the majority, this is effectively your shop front where you attract visitors through good presentation. You need to be in the right place, have the right products at the right price, and make it easy for customers to find what they need, place an order, and pay for it. In my previous role the bank website was one of my accountabilities and described sometimes as lacking innovation or excitement "as things don't spin or flash…". However, what it is exceptionally good at is conversion - that is, presenting the information the customer needs to make a choice to then buy. Some of the proceeding processes are still clunky when compared to the Neo-banks, but it was ultimately designed for conversion.
I've seen leasing broker websites out there currently that are cluttered and confusing. They must be hard to run efficiently including keeping pricing up to date and getting offers on and in front of customers quickly. This should not be the case anymore! For example, does your website allow you to choose which offers to share with the aggregators, and then allow you to automate the feed?
What has surprised me is the poor state of data exchange within the leasing sector. The amount of work and expert knowledge that brokers require to get the rate books in a fit state to support their websites is not ideal. The difficulty in accessing proper soft credit searching and finding any true 'straight-through' processes – such as from enquiry to car delivery without human intervention or rekeying of information e.g., for finance proposals. This does not reflect well on operational effectiveness, making it tougher to sell cars – yet what an excellent job you do as the volumes remain impressive!
Motor.Lease formally launched in the Autumn of 2021. Our own website, designed to support the launch, lacked the depth and breadth to truly convey the value and relevance to solve the issues faced by brokers on a day-to-day basis. We are currently having to "swallow our own medicine" and are in the process of building and launching a comprehensive new site, focused on conversion.
The decision to change your shop front is a tough one, but one you must get right. Sure, there will be work involved, mainly in transfer of content. However, the opportunities for easily accessible improvements are significant in areas such as SEO, compliance, and most importantly, making it easier to upload rate books and create offers to sell more cars at lower cost.
This is an opportunity there to be grabbed with both hands.
In the short space afforded by a blog such as this, there are many other subjects that are unavoidably omitted, such as stock supply, agency model, EV, retail entering leasing, brokers selling used cars, making this certainly both an interesting and exciting space, one that the team at Auto Platforms is excited to be part of.