Paul Turner, Executive Chairman, APD Global Research explores the prominence and threats to the credibility of online customer reviews.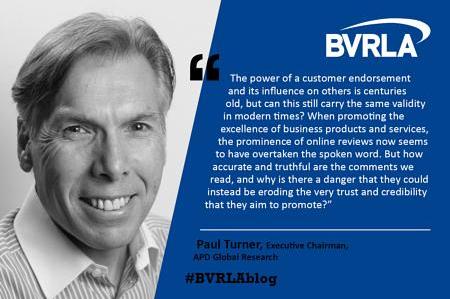 The power of a customer endorsement and its influence on others is centuries old, but can this still carry the same validity in modern times?
When promoting the excellence of business products and services, the prominence of online reviews now seems to have overtaken the spoken word.
But how accurate and truthful are the comments we read, and why is there a danger that they could instead be eroding the very trust and credibility that they aim to promote?
To understand why there are concerns, we need to go back to the blurring of the lines between conventional monitoring of customers' experiences to improve business efficiency and the use of the results from these to promote a positive external image of a business brand and its products and services.
By weaponising online review sites and redirecting the customers' voice for marketing purposes, the previously confidential dialogue between a customer and their supplier has moved online and is now visible to all to be read and judged.
The intention to be transparent has previously worked alongside a degree of discretion. A low rating or negative comment should trigger a responsive engagement, where both parties are shielded from the full glare of publicity as they find a mutually beneficial resolution.
Where scores and comments are openly displayed for all to see, there is less ability to personalise or add context to a reply, other parties can become involved, and a business risks losing control of the customer engagement.
This creates a paradox because, however customer-centric the supplier's response and action, there is no opportunity for a score to be re-rated if a customer issue is resolved. What remains is the original score and a reminder of all the dialogue on which the court of public opinion will judge a supplier's suitability.
This paradox has led to creating a whole industry dedicated to manipulating online reviews and encouraging businesses to 'game' their data to achieve higher ratings.
Which? Magazine, the BBC, and Channel 4 investigations have all revealed some uncomfortable truths.
The fact that social media has empowered people to use their voices to express an opinion and influence decisions has created benefits but also a significant external threat to business brands using online review sites.
The burgeoning and lucrative 'Dark Review' services, unlike the Dark Net, brazenly operate in plain sight and whilst many describe themselves as Reputational Management services, their websites openly promote the posting of false reviews.
To see just how visible, you need only type into Google 'buy reviews UK' and read how easy it is to boost your star ratings or trash a competitor. Guess which one is legal and then check out the BBC and C4 articles.
However, the good news is that not all online reviews sites are as susceptible as others, but all are still vulnerable.
The second threat to the credibility of online reviews and by association the business brands that use them to promote their businesses is Review Gating.
Unlike Dark Reviews, some businesses view aspects of this approach as legitimate from a marketing-centric perspective and involves the action of pre-screening and excluding customers to avoid any potentially harmful reviews.
This process asks for customer feedback and directs those with a positive opinion to leave a public review, whilst customers with a negative opinion are typically directed to leave internal feedback to a business, so they can understand what went wrong without suffering the reputational damage that comes with negative reviews.
Whilst this action is within the prerogative of any business, a selective approach of this type impacts the ability to accurately compare the Star rating displayed between those who choose this route and the majority of brands who do not.
The reality is that until online review sites can recognise and amend scores to reflect the quality of any actions taken in response to a customer score, Review Gating will remain a temptation.
With the use by the public of online review sites firmly embedded, business brands are countering the threats by reverting again to a separation between conducting and use of customer experience (CX) feedback for marketing purposes, by using a new type of hybrid CX platform to establish a level playing field on which their Star rating can be judged.
These new platforms bypass the pre-screening actions seen in Review Gating and restore the transparency and reliability of online Star ratings.
Unique arrangements exist with online review sites, where platforms like APD's Voice.360 CX protect the integrity of collecting feedback and control of customer dialogue offline, including resolving complaints and re-rating scores before release online for public scrutiny.
The direction of travel is for these hybrid CX arrangements to grow and enable businesses to take back control of the narrative when seeking customer feedback, whilst still enjoying the benefit of promoting the outcome to a wider online audience.
Their use and changed business practices will continue to push Dark Reviews and Review Gating back into the shadows and restore confidence in the positive endorsement that can come from sincere and authentic online reviews.