In this blog Ellie Bruce, Policy & Public Affairs Advisor, BVRLA, looks at the growing attention being given to how companies are approaching ESG, scrutinising their approach to becoming more environmentally aware. Ellie will be exploring this topic with a panel of experts in the "Greener Futures" breakout as part of the Fleets in Charge Conference on Thursday 7 July.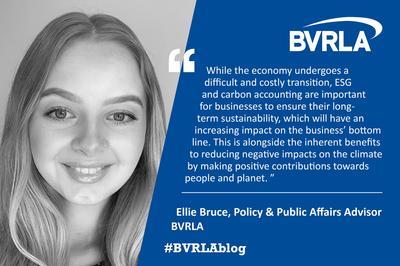 With the business world battling a triple threat of challenges: climate change, Covid-19 impacts, and the cost-of-living crisis, the financial services sector is responding with an ethical boom. Firms are facing greater scrutiny placed on their ESG credentials, which will determine their reputation with investors and consumers and ultimately, what business opportunities are available to them.
'ESG' refers to a firm's performance on environmental, social and governance factors that are central to its corporate social responsibility. Often deemed the new form of CSR, ESG builds on the notion that companies are obliged to reduce their negative impacts on wider society. Through corporate reporting against various frameworks, businesses can capture their 'moral' footprint against metrics such as carbon emissions and energy consumption, treatment of employees and local communities, and board diversity and structure.
Recent evidence has shown that companies with positive ESG scores are more likely to financially outperform those with poorer scores, due to the long-term benefits associated with operating in a sustainable way. This is impacting investor and customer confidence, with more weight being given to impact-based investments and the matching of purchases to personal values.
The Government has also recognised the key role of the financial ecosystem in enabling the net zero transition of our economy. This has resulted in regulation that mandates ESG reporting for the majority of firms across the economy by 2025.
One of the most prevalent, tangible tools for ESG reporting is carbon accounting.
Through measuring greenhouse gases and setting targets to reduce them, carbon accounting is the process by which an organisation assesses their climate impact and outlines the steps to be taken to improve it. In practice, it sees a company quantify the amount of carbon being emitted through direct or indirect business activities, and offsetting this inventory through reduction methods to equate the carbon balance sheet to net zero.
How does this affect businesses?
The most significant way in which the ESG agenda will affect businesses is through regulatory compliance. The UK Government has already mandated several environmental reporting frameworks for large and listed companies (see: Streamlined Energy and Carbon Reporting [SECR] and the Taskforce for Climate-related Financial Disclosures [TCFD]), with plans to legislate for Sustainability Disclosures on transition plans and alignment with the green taxonomy by 2023.
As we approach 2030, these reporting frameworks are set to expand in scope and capture more companies, with even more requirements to be introduced on social and governance aspects.
Regulation will not stay limited to the largest companies much longer. Firms not yet caught by regulatory requirements will still be affected by the growth of ESG.
As more public and private investment will need to be mobilised to finance the low-carbon transition in economic sectors, firms without a climate commitment may begin to lose access to capital from funders. Similarly, firms will become unable to win business through tender as carbon reduction plans and social value models become a mandatory requirement for procurement. Equally, SMEs may be caught up by ESG in the supply chain of a firm with more stringent reporting requirements.
The presence or lack thereof an ESG strategy will soon become crucial to the competition of financial services firms as business and retail customers seek to make their money matter in transactions.
Why is it important to think about now?
While the economy undergoes a difficult and costly transition, ESG and carbon accounting are important for businesses to ensure their long-term sustainability, which will have an increasing impact on the business' bottom line. This is alongside the inherent benefits to reducing negative impacts on the climate by making positive contributions towards people and planet.
Understanding the real financial value of ESG is not only important, but strategic for businesses looking to grow within a revolutionised economy. The direction of travel is clear; all firms must start thinking about these now to meet more ethical consumer demand and the UK's net zero targets.
More information can be found on the BVRLA's Guidance page.