Christina Calderato, Head of Transport Strategy and Planning at Transport for London writes to inform members of the where, when, and why of the ULEZ expansion from this October.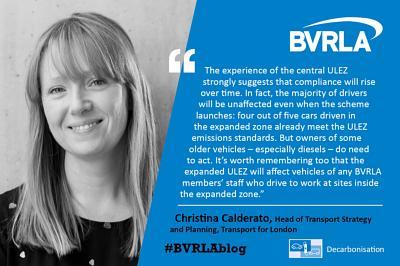 Air pollution causes lifelong conditions including underdeveloped lungs and asthma. And isn't just a problem in central London: many areas across the city still exceed legal pollution limits. That's why improving London's air quality is a key goal for Mayor Sadiq Khan – and why from 25 October 2021, the central London Ultra Low Emission Zone (ULEZ) is expanding up to the North Circular Road and South Circular Road.
It's a bold move. The expanded ULEZ will be 18 times bigger than the current central zone, and 3.8 million people live there – although six in 10 households in the expanded zone do not own a car. The North and South Circulars themselves are not in the zone.
The new zone should have a dramatic effect. After the ULEZ is expanded, with tighter Low Emission Zone (LEZ) standards already in place since March for heavy vehicles, just 4% of roads in outer London will exceed legal limits for NO2.
So, from 25 October, cars, motorcycles and vans will need to meet ULEZ emissions standards when driving within and into the expanded zone – or else pay a daily charge. Most of BVRLA members' fleets will likely be recent enough to be compliant. Indeed, the rental and leasing sectors, and car clubs, offer flexible and potentially attractive solutions to owners of non-compliant vehicles now looking at their alternatives in the expanded ULEZ.
The ULEZ standards are:
petrol engines: Euro 4 for nitrogen oxides (NOx) – including petrol cars, vans, minibuses. This includes most cars made after 2005 and light vans made after 2006.
diesel engines: Euro 6 for NOx and particulate matter (PM) – including diesel cars and vans and minibuses under 3.5 tonnes. This includes most cars and light vans made after September 2015 and most heavier vans made after September 2016.
The Euro VI standard (NOx and PM) for heavy vehicles over 3.5 tonnes, including lorries, buses and coaches, already applies throughout the wider LEZ.
Just like the existing central ULEZ, the expanded zone will operate 24 hours a day, seven days a week including weekends (except Christmas day). Likewise, the daily charge for non-compliant vehicles stays at £12.50 and the new ULEZ will be enforced by ANPR cameras on the boundary and movable cameras inside the zone. Payment can be made on TfL's website, via the TfL app or by phone. Auto Pay is also available.
The experience of the central ULEZ strongly suggests that compliance will rise over time. In fact, the majority of drivers will be unaffected even when the scheme launches: four out of five cars driven in the expanded zone already meet the ULEZ emissions standards. But owners of some older vehicles – especially diesels – do need to act. It's worth remembering too that the expanded ULEZ will affect vehicles of any BVRLA members' staff who drive to work at sites inside the expanded zone.
Owners can check that their vehicles mees the ULEZ emissions standards and see an interactive map of the zone at tfl.gov.uk/ulez-2021.
The expanded ULEZ is a big change for London and its vehicle fleet – but the payback in terms of Londoners' health will be more than worth it. We will continue to advance the Mayor's ambitions to improve air quality and move towards a zero-emission city and the rental and leasing sectors are especially well placed to give businesses access to affordable zero emission vehicles.
Share this blog via your own channels:
Members can download the social media image resources available for free from our Communications Toolkit. Don't forget to tag us #BVRLAblog @bvrla.