In this blog Catherine Bowen, senior policy advisor, BVRLA, looks at the challenges facing commercial vehicles in the transition to electric, and how collaboration is key in addressing the issue. Catherine will be appearing as part of an expert panel at the MOVE conference, taking place in London's ExCel Centre on Wednesday 15 June.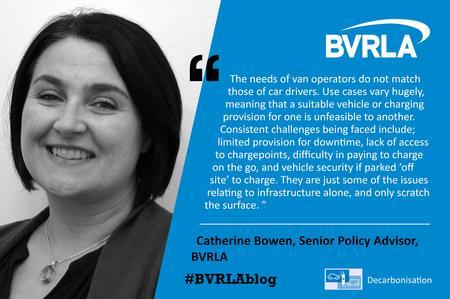 When looking at the latest data for the BVRLA's leasing fleet, two trends stand far above all others; the total van fleet continues to grow at pace, and the move towards electric vehicles gathers momentum.
Yet we still see that vans are further back on the Road to Zero when compared to cars. This is influenced by many factors, notably vehicle choice and performance, lack of charging infrastructure, and operational requirements such as routes and vehicle functions.
Positive steps have been made in recent months, with the Government's EV Charging Infrastructure plan setting out how to make the UK's network more effective and widespread in the coming years. That said, there is still the lack of a clear solution in how to deliver an electric vehicle charging infrastructure that meets the specific needs of van operators.
The needs of van operators do not match those of car drivers. Use cases vary hugely, meaning that a suitable vehicle or charging provision for one is unfeasible to another. Consistent challenges being faced include; limited provision for downtime, lack of access to chargepoints, difficulty in paying to charge on the go, and vehicle security if parked 'off site' to charge. They are just some of the issues relating to infrastructure alone, and only scratch the surface.
Depot-based charging offers a solution to some, yet the costs currently outweigh the benefits. Delivery fleets and rental operators are among those with the most compelling case to add depot-based charging, but many are finding that the extreme levels of investment required are making it hard to turn plans to reality.
While Government investment in rapid charging infrastructure and private-sector investment in rapid chargers is welcome, more is needed to cater for all users in all locations to ensure the van market can meet current Net Zero targets.
Collaboration is the answer. Local authorities have a critical role in helping to facilitate discussions with relevant players from across the charging industry, including fleets, to find solutions that work for all road users. The BVRLA's Fleet Charging Guide, launched earlier this year seeks to address this, setting out 12 recommendations to arm local authorities with the background knowledge they need to develop informed infrastructure strategies.
The recommendations are split into four distinct categories, designed to: match types of provision to emerging gaps in infrastructure; build trust in the reliability of infrastructure; ensure consistent ease of access, and; create a future framework for decisions based on user need. We continue to work closely with government at a local and national level to use the Guide and these recommendations as part of open, collaborative discussions that will seek greater consideration being given to fleets across the UK.
Only with a joined up, collaborative approach can we collectively develop a charging infrastructure that will be fit for purpose, for all, forever.