Rivervale's Chief Operating Officer, Vince Pemberton looks at adding value and using innovation to encourage the switch to electric.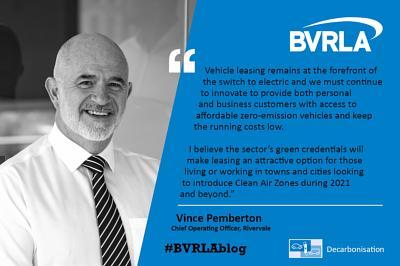 As more and more customers choose to lease a brand-new electric car or van, tax incentives, grants and lower running costs are all helping to make electric motoring as cost effective as the traditional petrol and diesel alternatives.
To make the switch to electric easy, we are now offering a home charging installation service in our customer's monthly payments. It's important to install an efficient and ergonomic car charge point for home use or commercial use. We've partnered with Virtus Energy to offer customers end-to-end EV charging installation and support.
Everything from network connection to infrastructure installation is taken care of, including substations, meters, and cabling at various voltages. Even the grant process, allowing customers to benefit from the government subsidy for EV charger installation points.
Customers have help to access a clean, green electric vehicle set up, tailormade to their situation. They will have help with where to place their EV Charger, when to install and for commercial installations, how many to install.
We also work with Eforests to help customers reduce their carbon footprint, by leasing an electric vehicle, the carbon is off-set with a tree planted in a range of UK locations where they are needed most.
Eforests tree dedications help to offset up to 1/2 a tonne of carbon dioxide throughout the life of the tree. Dedicating a tree helps maintain and improve new woodlands and supports work to provide local people with opportunities to live healthier, more sustainable lives.
In the commercial electric sector, we are working closely with Brighton and Hove City council and several orders have already been placed. It is an exciting time for electric vans, and many electric vans become a more viable option when placed on a leasing scheme.
We're at a pivotal moment when the demand for electric powered LCVs is on a steep upward trajectory and interest in EV automotive is huge. This year alone, we know that over 20% of our LCV leasing enquiries have been on electric vans.
The BVRLA's recent quarterly leasing survey shows that nearly one-fifth of leasing members' fleet now has some form of electrification with 5% of the car fleet being pure EV and 15% hybrid. This figure is set to grow as BVRLA members have pledged to register 400,000 new battery electric cars and vans per year by 2025.
Vehicle leasing remains at the forefront of the switch to electric and we must continue to innovate to provide both personal and business customers with access to affordable zero-emission vehicles and keep the running costs low.
I believe the sector's green credentials will make leasing an attractive option for those living or working in towns and cities looking to introduce Clean Air Zones during 2021 and beyond.
Electric options are a market sector which is only going to grow over the next decade, with the banning of new petrol and diesel cars from 2030. If you lease an EV, you need an efficient and ergonomic car charge point and the Earth benefits from the trees planted to off-set the carbon footprint too.
Share this blog via your own channels:
Members can download the social media image resources available for free from our Communications Toolkit. Don't forget to tag us #BVRLAblog @bvrla.