David Rose, Head of Product at Alphabet GB shares tips for members on encouraging customers to make the shift to electric.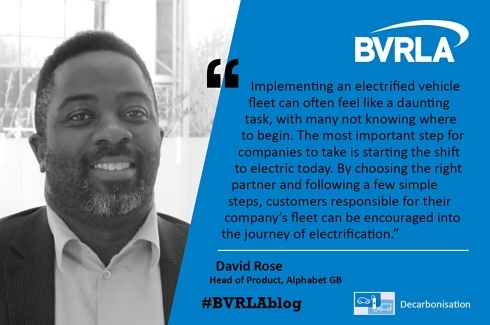 Never has the spotlight been so strongly focused on climate change than in 2021. COP26 created a pivotal moment calling for action, and undeniable environmental benefits from last year's national lockdowns showed consumers and businesses alike what can be achieved by all working to a common goal.
Environmental sustainability is quickly becoming a key differentiator to attract potential new employees, alongside favourable benefits in a candidate-driven market. As such, electric vehicles are an increasingly popular way for businesses to enact noticeable change towards net zero targets and offer employees a benefit that creates personal savings.
Cost savings will, in fact, be immediately evident to both parties. Businesses will see a reduction in employer National Insurance Contributions and Corporation Tax, along with lower fuel and maintenance costs. For employees, they can take advantage of the Benefit in Kind tax relief, which for pure electric vehicles is currently at 1%, and rising to just 2% over the next three years, essentially giving them a pay rise through the tax savings made.
These savings are one of the main reasons we're seeing an increasing demand from drivers for their companies to offer electric vehicles. It offers a great benefit to attract and retain talent, and helps employees reduce their personal carbon footprint, which is something many are more aware of these days. This is also why we've started to see a shift away from companies offering cash benefits and moving back to company car schemes, as electric vehicles are not always affordable privately.
However, implementing an electrified vehicle fleet can often feel like a daunting task, with many not knowing where to begin. The most important step for companies to take is starting the shift to electric today. By choosing the right partner and following a few simple steps, customers responsible for their company's fleet can be encouraged into the journey of electrification.
Consider Plug-In Hybrids (PHEVs) as a stepping stone
Every organisation operates in a unique way and has different requirements when it comes to finding the right electrified vehicles, so it's understandable that sometimes it may be tricky to shift all fleet operations to pure electric vehicles in one go. PHEVs therefore remain an important part of the e-mobility journey, particularly as charging infrastructure continues to improve across the UK. PHEVs also act as entry level low emission vehicles for drivers, easing concerns about going electric and providing a crucial bridge in the road to electrification that should not be overlooked.
Choose a supplier to support all EV charging environments
Implementing the right infrastructure for both workplace and home charging is key to reducing downtime and keeping employees on the move. While this may seem like a daunting factor in making the move to an electrified fleet, it's important to remember that a customer should not be expected to do it alone. Work with partners that are experts in all environments that employees will be charging – at home, at the workplace and on the go.
Partner with the experts
The potential move to electrified vehicles often leads to misconceptions that huge changes will need to be made to a company's existing fleet policy, but this is not the case. The most important step a customer takes in their shift to electric is choosing the right fleet partner to guide them through the process. The right partner will consult and guide them end-to-end, immersing themselves in their journey, and navigating infrastructure implementation and business mileage reimbursement, to remove potential stressors from fleet managers.