Writing for EV Fleet World Magazine, the BVRLA's Andrea McMahon highlights how the increasing emergence of Clean Air Zones will boost demand for cleaner vehicles.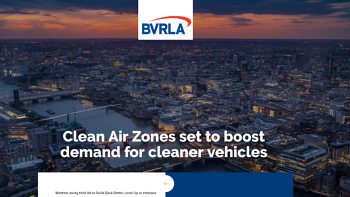 Whether doing their bit to Build Back Better, Level Up or embrace Clean Growth, individuals and businesses across the land are supportive of the Government's ambition to see the UK recovering from the deepest recession and biggest health crisis of our time.
United by a collective ambition to make the UK a healthy, safe, and prosperous place to live, work, visit and do business, we all have skin in the game and are keen to see good health and wellbeing return.
In February 2020, prior to the outbreak of the Covid-19 pandemic, the Government had warned that "Poor air quality [was] the largest environmental risk to public health in the UK", publishing its Clean Air Zone Framework to outline principles for local authorities implementing a Clean Air Zone.
The desired outcomes were threefold. Clean Air Zones should:
prompt immediate action to improve air quality and health
accelerate the transition to a low emission economy
support local growth, decoupling growth and pollution
Whilst devolving responsibility for Clean Air Zones to local authorities, central Government went on to issue a flurry of policies, publications, and PR pieces to nudge behaviours in a quest to stimulate a green industry-led recovery and to position the UK as the world leader in tackling climate change.
From the Industrial Decarbonisation Strategy to the Plan for Growth. The Ten Point Green Industrial Revolution Strategy to the upcoming Net Zero Report and Road Transport Decarbonisation Plan. They all aim to deliver that collective ambition and put the UK in the driving seat ahead of COP 26.
At a local level, consultations and preparations for air quality improvement plans remain underway with Bath, and on 1 June Birmingham, first off the blocks to introduce charging Clean Air Zones for those with non-compliant vehicles.
Bristol, Bradford, Portsmouth, Greater Manchester, Newcastle, Gateshead, North Tyneside, and Oxford are all set to follow, with London extending its more stringent Ultra-Low Emission Zone to an area 18-times larger than the original Low Emission Zone, by 25 October 2021.
As more cities introduce Clean Air Zones, the demand for cleaner vehicles is only going to increase and the rental and leasing sectors are perfectly placed to provide affordable flexible CAZ-compliant vehicles to those individuals and businesses looking to switch to cleaner cars and vans.
At a time when cash is King, a growing number are choosing to keep hold of their money and are opting for 'usership' over 'ownership' when choosing a vehicle upgrade. The number of BVRLA vehicles on Personal Contract Hire is expected to reach record levels in 2021, accounting for four times more vehicles than four years ago, according to the BVRLA's latest Leasing Outlook report.
With their fast fleet cycles and vast purchasing power, BVRLA members continue to lead the way in driving the transition to road transport decarbonisation, putting cleaner vehicles on UK roads through rental, leasing, and by being the largest supplier of nearly new vehicles to the used car market at de-fleet.
Of the four million vehicles on the collective BVRLA member fleet, one-fifth have some form of electrification, and this is continuing to grow as the fleet mix reduces its proportion of ICE vehicles.
With Clean Air Zones continuing to roll out across the UK, this is the perfect time for the Government to incentivise the uptake of low- and zero- emission vehicles, which makes the recent Plug-in Grant cut and the exclusion of leased vehicles from the new 130% capital allowance Super Deduction even more bemusing.
It is great news that businesses will be able to offset certain investments, including EV charging infrastructure, under the Super Deduction scheme, but disappointing to find that operating leases and second-hand assets, including cars, are not eligible for the relief.
I am in no doubt that the Government understands the important role that the vehicle rental, leasing and fleet sectors play in delivering road transport decarbonisation, but it must be sure to align its fiscal and environmental policies if it is serious about realising its zero-emission goals.
The BVRLA has published a useful guide providing a one-stop-shop for all you need to know about Clean Air Zones. Visit www.cleanairzones.co.uk to find the latest news on which local authorities are implementing or considering Clean Air Zones, the rules, restrictions, penalty charges and any financial support available to help with upgrading to cleaner vehicles. There is also a link to the Government's CAZ payment portal.
The article features in Issue 3 of EV Fleet World.