Writing for Commercial Broker Thomas McLennan, BVRLA's Head of Policy & Public Affairs talks about a pivotal twelve months for the transport sector with decarbonisation a key focus and the external forces of Brexit and the pandemic impacting the sector.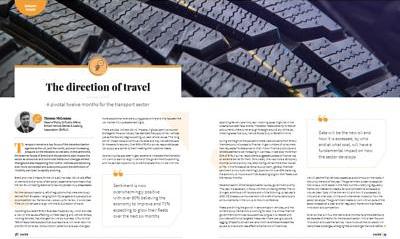 Transport remains a key focus of the decarbonisation agenda as the UK, and the world, put ever increasing pressure on the transition to net zero. At the same time, the external forces of Brexit and the pandemic also impact the sector as consumer and commuter behaviour changes embed. Changes are also happening from within. Vehicles are becoming ever more connected and autonomous and the definition of 'mobility services' is rapidly evolving.
Brexit and what it means for the UK is still not clear. COVID-19's effect on demand and an array of temporary easements have meant that the new EU-UK trading relationship has not yet been truly stress-tested.
For the transport sector a raft of regulations that were previously derived from Brussels – ranging from CO2 targets and type approval to competition law frameworks – are all up for review. It is not clear if the UK will deviate or align with the EU's direction of travel.
According to a recent BVRLA Business Impact Survey, which provides a view on the issues affecting UK fleet leasing and vehicle rentals, working remotely has changed how we do business. It found that 78% of respondents expect that business travel will never return to pre-COVID-19 levels. Consumption patterns have also changed. More people than ever are buying goods online and this has seen the van market hit unprecedented highs.
There are also indirect COVID impacts. A global semi-conductor shortage for the auto industry has restricted the supply of new vehicles just as the recovery begins pushing up used vehicle values. This 'long COVID' impact looks to continue into 2022 and may well set the pace for the sector's recovery. Over 90% of BVRLA survey respondents see van supply as a barrier to them meeting their customer needs.
Coronavirus has also been hugely expensive. We expect the Chancellor will want to start to reign in some of the Government's spending, and his earliest opportunity to demonstrate this will be with the Spending Review later this year. Motoring taxes might be in the crosshairs at later fiscal events. The sector needs certainty to recover and currently there is not enough foresight around any of the key motoring taxes: fuel duty, Vehicle Excise Duty or Benefit-in-Kind.
During the height of the pandemic there were concerns from BVRLA members around access to finance. Huge numbers of consumers had requested forbearance on their motor finance products and lenders seemed to be increasing in wariness. In late 2020 more than 20% of BVRLA survey respondents suggested access to finance was an extreme barrier for them. Fortunately, this was more a temporary blip than a trend and by May 2021 the figure had more than halved to 7%. While forbearance remains a concern, general member sentiment is now overwhelmingly positive with over 90% believing the economy to improve and 71% expecting to grow their fleets over the next six months.
Decarbonisation of the transport sector is a key government priority. This year, it is especially in focus with the UK hosting COP26. The UK is hugely ambitious with its plans and will be following up last year's 2030 ICE phaseout announcement with a raft of consultations and announcements in the run up to the UN conference.
Fleets are driving the growth in zero emission vehicles, and the current policy framework is working for cars. It is critical that the government continues its support as long as it is needed and provides additional targeted measures where user groups are lagging. Of specific concern are vans which have the same deadlines as cars but have a far less effective framework of incentives.
We will see the first vehicles classed as autonomous on the roads in the UK by the end of the year. Government is keen to establish the UK as a world leader in this field, but the underlying regulatory framework needed to create a fair and competitive landscape is not yet clear. Data will be the new oil and how it is accessed, by who and at what cost, will have a fundamental impact on how the sector develops. Government needs to work with all parts of the sector to establish a clear and fair regulatory framework that fosters innovation and competition.
Given all that is in flux, the next twelve months have the potential to set decades of direction for the transport sector. With a keen focus on innovation and customer service, I have no doubt that our sector will rise to these challenges, emerging fitter and stronger than ever before.
See the article in the July/August 2021 issue of Commercial Broker magazine.