The BVRLA has welcomed the Chancellor's announcement that he wants to cut and reform taxes on business investment.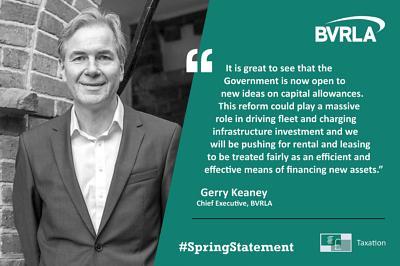 Capital allowances can play a crucial role in supporting the transition to zero emission road transport and the BVRLA continues to campaign for a regime that treats rented and leased assets fairly.
Commenting on today's announcement, BVRLA Chief Executive, Gerry Keaney, said:
"It is great to see that the Government is now open to new ideas on capital allowances. This reform could play a massive role in driving fleet and charging infrastructure investment and we will be pushing for rental and leasing to be treated fairly as an efficient and effective means of financing new assets."
As the trade body for the vehicle rental, leasing and mobility services sector, the BVRLA's members own and operate around four million vehicles in the UK. The sector is already responsible for the majority of battery electric vehicle registrations, with BVRLA members responsible for around half of new vehicles sold in the UK each year.