i247 Group Joint Managing Director Martin Phillips brings to life the reality of some of the vehicle maintenance challenges being faced by fleets post lockdown.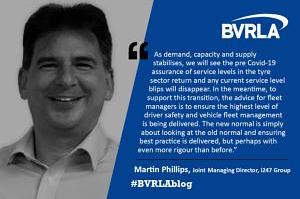 The lockdown period saw all but essential travel come to a halt. Key workers and essential fleets were the only vehicles on the road and whilst many tyre fitters and garages closed, breakdown services were maintained.
Fortunately, tyre stock on the shelves, especially for key sizes, was excellent. This was in part down to a strong market in Q4 2019 and into Q1 of 2020 with many wholesalers and fitters stocking up in anticipation of a continuing high demand. Then as Chinese supply shut down, stock was topped up by European manufacturers.
When production of new cars halted the demand and supply for tyres remained broadly stable, ensuring a seamless lockdown service.
Fast forward to current times and we see three challenges emerging; Demand, Capacity and Supply.
There is increasing evidence of pent up demand as fleets and drivers emerge from lockdown measures, and vehicle usage starts to increase. With many vehicles not used for a few months, normal checks that would normally have occurred, have perhaps lapsed.
As validated by numerous social media images of shockingly worn tyres, there appears an increasing level of 'emergency' bookings with tyres being identified as below legal levels. Not only is this creating a surge in tyre demand but also in the need for same day/breakdown mobile tyre fitment.
Additionally, with the MOT extension ending, many drivers and fleets are looking to book their vehicles in to beat the rush back and to rightly provide peace of mind around safety as part of their duty of care. This also creates additional tyre demand as tyres are often an area of MOT failure or advisory notices.
The message across the industry is rightly that 'we are open'. However, the reality is that some businesses still have colleagues on furlough as they balance their volumes, overheads and income. Indeed, according to data from GiPA, the Automotive aftermarket intelligence specialists, at the beginning of June around 85% of garages were open but that staffing levels were running at nearer 55%. Whilst our sector provided excellent service levels for key fleet activity during lockdown, current capacity is impacting the ability to meet the emerging demand for both booked but also non booked jobs. Emergency mobile fitting requests are having an impact and service levels and vehicle uptime can suffer accordingly.
With demand down by over 58% during lockdown, some garages looked to manage inventory and cash flow extremely carefully, running stock down, and not placing their normal forward orders, whilst demand was so erratic. This has led to the highly unusual situation of there being gaps on shelves of even the occasional fast moving tyre sizes, which has been further exasperated by the demand challenges already discussed and getting the right balance of retail and fleet business mix.
Meanwhile tyre manufacturers and logistic companies are also having to return to operations. Starting factory productions with new safe working procedure has not been as simple as flicking a switch and lack of clarity around forward orders and new normal levels of demand creates additional lags to the process of production and onward distribution.
As demand, capacity and supply stabilises, we will see the pre Covid-19 assurance of service levels in the tyre sector return and any current service level blips will disappear. In the meantime, to support this transition, the advice for fleet managers is to look at those best practices before lockdown and ensure the highest level of driver safety and vehicle fleet management is being delivered.
This involves revisiting fleet policies and procedures and looking at enhancing driver engagement and ensuring personal responsibility is understood, whilst finding mechanisms to forward plan and pre-book wherever possible to ensure emergency resource is available for exactly that, emergencies.
The new normal is simply about looking at the old normal and ensuring best practice is delivered, but perhaps with even more rigour than before.
Share this blog via your own channels:
Members can download the social media image resources available for free from our Communications Toolkit. Don't forget to tag us #BVRLAblog @bvrla.