Dr Marc Lepere, Co-Founder of associate member and ESG reporting platform provider Omnevue (previously ESGgen) and Lead in ESG & Sustainability, Executive Education at King's Business School, highlights three things that members need to know about the recent regulation announcement.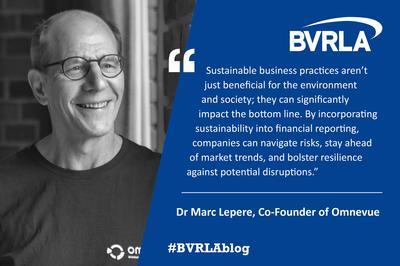 In June 2023, the IFRS foundation released the International Sustainability Standards Board (ISSB) new S1 and S2 standards, signalling a shift in financial reporting. These standards, set to become mandatory for annual reporting periods starting on 1 January 2024, require businesses to identify and report material sustainability-related risks and opportunities, paving the way for a greener and more sustainable future. The UK Government has said it will adopt these new IFRS standards by July 2024 latest.
The Countdown Begins: 1 January 2024
For businesses, effective financial reporting is crucial for informed decision-making, fostering trust among stakeholders, and enhancing accountability. The impending arrival of IFRS S1 and S2 puts sustainability front and centre in the reporting process. With mandatory implementation just around the corner, companies must proactively integrate these standards into their financial reporting processes.
By starting preparations now, organisations can avoid last-minute scrambles and ensure a smooth transition to the new requirements. The clock is ticking, but getting into the reporting swing of things early undoubtedly pays dividends.
Beyond Compliance: Sustainability as a Strategic Advantage
Just as financial reporting rapidly moved beyond being a compliance exercise, IFRS S1 and S2 standards go beyond merely checking boxes and shift the focus to identifying and managing sustainability-related risks and opportunities at the core of a business.
Sustainable business practices aren't just beneficial for the environment and society; they can significantly impact the bottom line. By incorporating sustainability into financial reporting, companies can navigate risks, stay ahead of market trends, and bolster resilience against potential disruptions.
Proactively identifying risks and mitigating them can protect an organisation from reputational damage, regulatory sanctions, and operational inefficiencies. Furthermore, spotting opportunities can lead to innovation, enhanced efficiency, and increased stakeholder confidence, all vital ingredients for long-term success.
Increased transparency for carbon footprint
A crucial aspect of IFRS S2 is the disclosure of Scope 1, 2, and 3 CO2e emissions under the Greenhouse Gas Protocol. This new requirement aims to increase transparency regarding a company's carbon footprint, allowing stakeholders to make more informed decisions.
Navigating the complexities of measuring and reporting emissions can be challenging for many businesses. However, Omnevue's ESG Data reporting platform is an easy and automated solution that provides accounting grade data and reports; helping businesses gain a competitive edge in the industry.
In 2022, we proudly partnered with the BVRLA and have helped prepare a growing group of forward-thinking BVRLA members for the disclosure regulations that are coming our way, specifically around CO2e emissions.
Get started today! BVRLA members can take advantage of the exclusive BVRLA discount. Contact [email protected] to get your 10% discount.