BVRLA Government Affairs Manager, Paul Thompson shares his thoughts post-election about what could happen under the new government regarding Brexit and road transport decarbonisation in the coming months.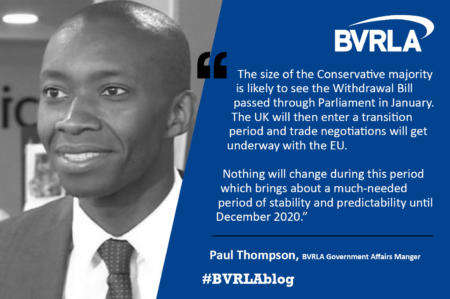 The size of the Conservative majority is likely to see the Withdrawal Bill passed through Parliament in January. The UK will then enter a transition period and trade negotiations will get underway with the EU.
Nothing will change during this period which brings about a much-needed period of stability and predictability until December 2020.
In the unlikely event that the Withdrawal Agreement is not approved by 31 January 2020, or at the end of a transition period, the UK could still leave the EU without a deal.
A few calendar highlights in the coming months include:
December: Before Christmas we will see a Queen's Speech and Brexit legislation brought back to the Commons to implement Brexit. We'll also see a minor Cabinet reshuffle.
January: UK scheduled to formally leave the EU on 31st. Labour party leadership contest will start.
February: Trade talks with the EU will kick off and we will enter a transition period until December 2020. Major Cabinet reshuffle is likely.
March: Spring Budget.
April: Spending Review process starts to set spending levels for three years. New Labour leader elected.
The government will have to channel a lot of energy and resource to agreeing a trade deal with the EU27 by December 2020. If the transition period that starts after the UK leaves the EU is to be extended, a decision has to be made in July between the UK and the EU27, although Boris Johnson has said that he will not extend the transition period.
One big issue is going to be whether the UK signs up to a 'level playing field' on environmental standards and labour market standards as Boris Johnson's Withdrawal Agreement means the UK can diverge from EU standards.
Donald Tusk's replacement, Charles Michel, welcomed the prospect of trade talks and echoed the need for a level playing field in his post-election tweet. The EU27 will not want the UK to be able to undercut its market by diverging too much from current regulations, so we can expect a hard negotiation ahead.
A second big issue will be whether a deal on services can also be struck. History tells us that this isn't easy.
The risk of the UK leaving the EU without a trade deal at the end of 2020 unfortunately remains real, which could mean higher costs for different sectors, including the automotive industry. The direction of travel indicated by the kind of trade relationship the government wants with the EU, may ultimately mean no tariffs, but that remains to be seen.
The government's strong focus will be on reducing emissions and we can expect to see the Cabinet sub-committee on climate change - headed by the Prime Minister - pick up pace.
The Department for Transport will be able to move forward on consulting with industry about how to end the sale of petrol and diesel vehicles by 2035, not 2040. We can expect to see moves towards developing a plan to create a national network of rapid Electric Vehicle (EV) chargers, and hopefully more detail on how a pledged extra £9billion of Research & Development funding for EVs will be allocated. Also, the Environment Bill will progress through Parliament, which includes stronger powers for councils and government to tackle poor air quality.
There are some big government decisions and thinking that will kick off in the next quarter or so, including the Transport Decarbonisation Plan - which will set out what industry and society need to do accelerate transport decarbonisation. Another major focus for government will be moving forward on the Net Zero Review, led by the Treasury, which will decide on how the UK can maximise opportunities from its transformation to a green economy, how to reduce emissions and how to reduce costs for low income households.
Whilst Brexit will continue to be a huge part of the political agenda in 2020, the BVRLA will continue to make sure policymakers understand there are other urgent issues that also need to be prioritised by government.
The BVRLA will be out and about engaging with decision-makers to ensure our members' interests are fully considered and policymakers understand the important role our industry can play as a key partner to delivering the UK environmental and economic ambitions.
Read the BVRLA's letter to Boris Johnson issued on 13 December: BVRLA chief writes to PM Boris Johnson following electoral win.
Share this blog via your own channels:
Members can download the social media image resources available for free from our Communications Toolkit. Don't forget to tag us #BVRLAblog @bvrla.