The BVRLA releases its latest quarterly leasing survey.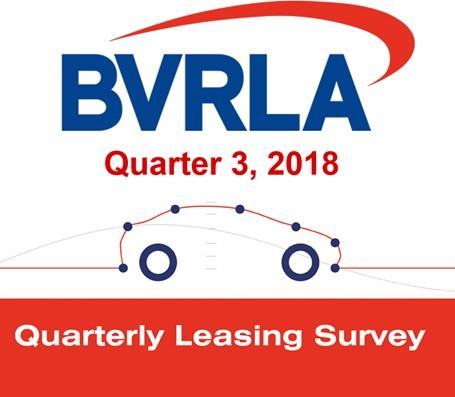 Market Estimate and Trends
Business fleet leasing is in decline and has been for the last year. Year on year market growth for cars is negative at -7.2% but the van sector is helping support overall as it grew by 3.5% in the last year. The data is showing an acceleration in the decline of business fleet leasing for cars and a slowing in growth for vans.
Personal contracts for cars have continued to grow albeit at a slower rate in 2018 than in 2017. Interestingly this quarter we did see both a quarter on quarter and year on year increase in the rate of growth. We wait to see if this is a blip or change in a trend which has been evident since 2016. Growth in personal contracts for vans is still evident but the rate of growth continues to decline.
Emissions
This quarter saw the level of emissions on new car registrations reach their highest level in 4 years at 127.0 g/km. Whilst emission levels for new car registrations have been slowly on the increase since Q1 2016 this jump of 3.4g/km in a single quarter is by far the largest.
The emission levels for the BVRLA fleet is 111.1g/km CO2 and up 1g/km on the previous quarter. However, the Q2 2018 figure was the lowest recorded and this quarter's is still 1.5g/km co2 lower than at the same time last year.
New registration CO2 emissions for the BVRLA fleet is 14g/km lower than the national average at 113.0g/km. This represents the biggest ever difference since we started recording these figures in 2013. That said this quarters new registration emissions were up 1.7g/kg on the last.
Fuel Type
Diesel now accounts for under 70% of the BVRLA total car leasing fleet falling from just under 75% in the same period last year. The fall in the level of diesel cars on fleet reflects the fall in new diesel registrations. A year ago, in Q3 2017, 63% of new registrations were diesel, this quarter 47% were diesel a difference of 16 percentage points. The substitution from diesel is into petrol rather than electric or other alternatively fuelled cars. Around 7% of the total fleet is a Hybrid or Electric car.
Business Confidence
Confidence in the UK economy among the business community (as measured by the CBI) and among BVRLA members is at its lowest since Q2 2016 which incidentally coincided with the decision to leave the EU.
Members are relatively positive about fleet sizes but remain pessimistic about the fleet leasing sector performance over the next six months. Confidence about used car values and margins declined markedly in Q2, however we have seen a reversal of this in Q3 2018. Members have been progressively less negative about used car values since Q2 2015.