Beverley Wise, Director UK & Ireland, Webfleet Solutions, discusses some of the challenges of electrifying fleets and how data holds the key to EV transformation.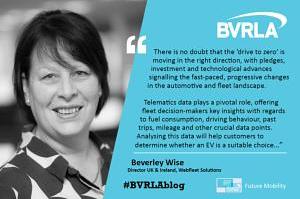 There is no doubt that the 'drive to zero' is moving in the right direction, with pledges, investment and technological advances signalling the fast-paced, progressive changes in the automotive and fleet landscape.
The BVRLA, for example, recently launched the Plug in Pledge for the fleet, rental and leasing sector to own and operate around 900,000 battery electric vehicles (BEVs) within five years.
The pledge is based on the sector registering 400,000 BEVs per year by 2025. If plug-in hybrids (PHEVs) are included, it would equate to 570,000 annual plug-in registrations and a combined fleet of over 1.3 million plug-in cars and vans by the middle of this decade.
Indeed, evidence suggests that electric and hybrid cars are catching up with their fossil fuel counterparts, having represented more than one in five cars sold in Europe in August.
This was a new record, according to data analysis firm Jato, and represents a growth of 121% year-on-year – indicating that the drive towards cleaner road transport is already well underway.
Although there is a clear appetite for EV adoption, barriers do exist. Recent qualitative research conducted by Webfleet Solutions revealed three commonly cited concerns over the adoption of electrically powered vehicles by fleets - availability, cost, and mind-set.
Indeed, efforts are being made by government and industry to help overcome these obstacles, including tax incentives and manufacturing drives.
With enhanced government support, and advancements in battery range, payload, availability, and charging infrastructure, a continued upsurge in uptake can be expected.
As well as improved choice and incentive, greater knowledge, visibility, and cost-analysis is needed to set fleets on the path to a successful transition to zero emissions.
Telematics data plays a pivotal role in this process, offering fleet decision-makers key insights into existing fleets with regards to fuel consumption, driving behaviour, past trips, mileage and other crucial data points.
Analysing this data will help customers to determine whether an EV is a suitable choice for replacing a combustion engine vehicle in their fleet.
As adding an electric vehicle requires a higher initial investment, lower running costs are, next to sustainability, one of the most attractive benefits for fleet managers. On average, an electric vehicle can accrue less than half of the travel costs of a combustion engine vehicle across the same distance.
Maximising the cost saving ability by managing and scheduling cost-efficient charging and smart route-planning is a task that telematics can help with.
Telematics can offer visibility of nearby charging stations and the remaining driving range of EVs to help fleet managers further optimize their workforce planning.
By knowing exactly how much charge a vehicle has, and how far it needs to travel, fleet managers can plan a sequence of orders or identify the right vehicles for jobs, as well as avoid having vehicles wait in-line for charging or avoid higher charging costs during peak times.
Telematics' ability to offer insights into driver behaviour can also help identify opportunities to improve charge efficiency and diagnostic intelligence may help minimise EV off-road time.
Further data insights will help businesses to retrospectively calculate exactly how financially beneficial the addition of EVs to fleets has been, and to compare running costs with ICE vehicles to help signpost future EV strategies.
Although significant strides have been made in the EV sector, adapting to new processes and planning will be a challenge for the fleet sector – but telematics data can steer businesses onto the right path and accelerate their journey to a sustainable, e-mobility future.
Share this blog via your own channels:
Members can download the social media image resources available for free from our Communications Toolkit. Don't forget to tag us #BVRLAblog @bvrla.