Members can now access a suite of free printed, digital and social media communication tools to help keep customers updated on the status of Clean Air Zones.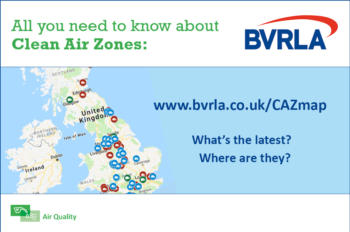 Over 60 local authorities across the UK are currently considering new clean air measures including the introduction of Clean Air Zones (CAZs) and the BVRLA's CAZ map provides a popular one-stop-shop of information.
Phil Moon, Marketing Manager at DAF Trucks said: "The BVRLA interactive CAZ map is a great reference that I have started to use as the go-to site to understand the current status of Clean Air Zones. It's easy to access and use and seems to be bang up to date."
Sarah Gray, Fleet Consultant at ALD Automotive said: "I use it frequently and point others to it often."
Members can logon here to access the CAZ map Communications Toolkit.
Members wanting to add their own logo to the printed material should contact the BVRLA communications team.