Toby Kernon, CEO of Wagonex explores some of the benefits and flexibility of vehicle subscription services and the shift in consumer behaviour.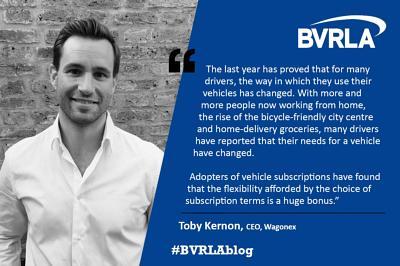 Consumer habits have been changing across the board over a number of years and people are looking for a more convenient and flexible alternative to some of the more traditional ownership models when it comes to purchases.
Whether it's mobile phones or meal boxes, roses or razor blades, consumers are increasingly enjoying the benefits of online purchasing in their everyday lives, so, why should car buying be any different?
We have seen that for consumers, if choosing a new car can be made as easy and transparent as signing up for Netflix or Hello Fresh, and if the consumer has a clear choice of what to include and for how long, then many of the traditional friction-points to car ownership are removed at once.
Subscription services for vehicles are a completely fresh alternative for those looking for a new car, and with the latest technology vehicles can be ordered online and delivered direct to the doorstep for anything between one and 24 months. Even the insurance and maintenance can be covered for a completely hassle-free usership experience.
Many car dealerships which are embracing the vehicle subscription model can offer would-be-buyers access to a new vehicle through a third option. Drivers are put off by the potential financial risks of outright purchase or the long-term financial commitment of leasing. It's a win-win for the consumers as well as for dealers across the country.
We have reported 250% increase in vehicle subscribers since September 2020, this rise in adoption shows no sign of tailing off in 2021. As more and more mainstream dealer groups begin to offer subscription services, numbers are expected to rise further as the UK's COVID-19 restrictions ease and the public begin to get back on the road once again.
The last year has proved that for many drivers, the way in which they use their vehicles has changed. With more and more people now working from home, the rise of the bicycle-friendly city centre and home-delivery groceries, many drivers have reported that their needs for a vehicle have changed.
Adopters of vehicle subscriptions have found that the flexibility afforded by the choice of subscription terms is a huge bonus. With packages starting at just one month in length, users can enjoy the use of a private car when they need one but aren't being tied into a long contract for the times when they don't.
It seems many motorists are now asking themselves whether traditional routes to vehicle ownership are really for them or if, instead, shorter term car use for a fixed cost is the way forward, especially with the added benefit of the ability to upgrade.
In a fast-paced consumer landscape and armed with the ability to change and vary their vehicle as they see fit, customers can always be behind the wheel of the latest model, something which is a unique selling point of the subscription model.
The huge increase in interest in vehicle subscriptions seen in recent months certainly points towards shifting consumer behaviour and the experts agree. Before the pandemic it had been predicted that by 2025 – just four years from now – vehicle subscription will account for more than 10% of all new registrations, and all the data seems to suggest that the industry is on track for this.
However, the effects of lockdown appear to have accelerated the shift and the flexibility offered by a subscription will soon be a common consideration in the heads of buyers when choosing their next vehicle.
Share this blog via your own channels:
Members can download the social media image resources available for free from our Communications Toolkit. Don't forget to tag us #BVRLAblog @bvrla.