Following on from his recent presentation at the BVRLA's inaugural Leasing Broker Conference, James Davis, Customer Insight and Strategy Director for Commercial Vehicles at Cox Automotive poses the £100 billion question about EV vans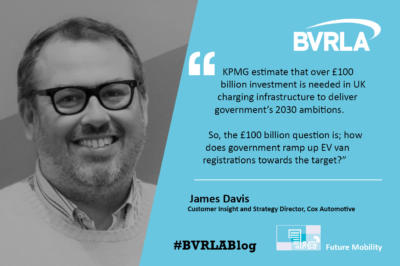 Recent figures from the SMMT show there are only circa 6,500 licenced EV vans on UK roads and there are around 900,000 used van transactions per annum. To help put this in context, in the last two years, less than 0.1% of vans sold by Manheim in auction have been electric. Yet with the rollout of the first ULEZ in London, demand is ramping up for EVs. I am even hearing anecdotal stories that large corporates are trying to buy used units too!
The government's Road to Zero report has an ambition for the proportion of annual EV van registrations to be 40% in 11 years' time. Despite OEM production capacity and suitability of EVs for first life operators, KPMG 2030 recently estimated that over £100 billion is required as an investment in the UK charging infrastructure to deliver the government's 2030 ambitions. It's not for the vehicle manufacturers to foot that bill. So where will this money come from?
So, the £100 billion question is; how does government ramp up EV van registrations towards the 2030 target?
In the first month of the London ULEZ, 26% of all daily journeys attracted the £12.50 daily fee. That's £220,000 every day, that's £80.3 million in a year. I suspect a proportion of these non-compliant journeys will become compliant in time, but even £80 million is a drop in the ocean of the £100 billion required across the UK to install the necessary infrastructure.
TfL says this 26% figure is a success in terms of the reduction in non-compliant journeys. I sincerely hope that van operators are not travelling round the ULEZ with their non-compliant vans in order to avoid the daily fee. For the self-employed single van owner I'd suggest £12.50 isn't much of a deterrent. I suspect a larger proportion of owners will simply stomach the fee and we will end up paying the ultimate bill as the customer. It's only the owners of large non-compliant fleets travelling in and out of the zones every day that get hit where it really hurts.
If you ask the policymakers where the money from charging zones is going, they'll tell you about grand plans, or evidence significant investment, in improved public transport links, cycle paths and pedestrian walkways. But a van driver can't do his or her job on the bus, a bike or on foot, in cycle lanes or tram extensions.
An increasing number of used van operators are in the gig economy, self-employed and not VAT registered. They logically buy and operate older used vans. In terms of scrappage schemes, I applaud the flexibility of the one launched by TfL for its inclusion of Euro 6 and EV new and used vans as well as rental/leasing, but this will not help these gig workers in the same way it won't help the first life corporate buyers; who ultimately feed the used van market.
If I could only have one wish, it is that our policymakers significantly incentivise the large corporate fleets to move to PHEV and EV. This creates a significant demand in the new market and OEMs can then ensure the UK receives the order bank supply rather that see it diverted to more profitable LHD markets in the short term. This then starts to create a volume pipeline for the used market.
It could also fuel a change in ownership models as whole life and holding costs for rental and lease businesses are transformed by lower operating costs of EVs. And, let's be honest, the loss to the treasury, whilst no doubt significant, is likely offset by the benefits to society and the NHS in terms of air quality and associated illnesses (Research from the Universities of Oxford and Bath put this at £2.2 billion per annum). I'm no tax expert to judge the true impact, my point is something major needs to change or we will not hit the government targets. The £56 billion wage contribution (11% of GDP) that van drivers make to the UK economy should not be underestimated. The government needs to dig deep in my opinion.
The saying goes 'If you bought it, a commercial vehicle brought it." They are the lifeblood of our economy and the glue in our lives. And vans are busy. According to the DfT in 2017, annual van mileage was 50.5 billion, up 56% from 2008. Over 30% of the 4.3 million vans in the UK are over 10 years of age. And that proportion of vans has increased by 64% in the last decade. The reality is that these 1.3 million older vans that are the most polluting. Let's help get these 'oldies' off the roads.
Share this blog via your own channels:
Members can download the social media image resources available for free from our Communications Toolkit. Don't forget to tag us #BVRLAblog @bvrla.