Peter Harris, Director of Sustainability, Europe at UPS investigates the 'last mile' and asks how we can make urban logistics sustainable in the modern world.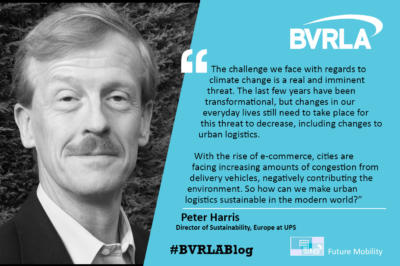 The challenge we face with regards to climate change is a real and imminent threat. The last few years have been transformational, but changes in our everyday lives still need to take place for this threat to decrease, including changes to urban logistics. With the rise of e-commerce, cities are facing increasing amounts of congestion from delivery vehicles, negatively contributing to the environment. So how can we make urban logistics sustainable in the modern world?
Congestion is on the rise as consumers are demanding more goods and have higher expectations around delivery times. Every day, UPS is faced with a complex challenge of delivering more whilst using less. This has been made possible by our rolling laboratory; a global fleet of more than 10,000 alternative fuel and advanced technology vehicles that drive more than one million cleaner miles each business day. The rolling laboratory allows UPS to continuously evaluate and experiment with new fuels and technologies and helps us to adapt and change in line with global needs and sustainable requirements, stretching far beyond operational efficiencies and environmental improvements.
The sustainability of urban logistics rests on people and businesses making the necessary changes, and at UPS, we have set aggressive goals in order to help achieve global targets, such as 25% of the company's annual vehicle purchases to be alternative fuel and advanced technology by next year (2020). I understand, however, that it's not easy for all businesses to reach these goals. UPS is working to break these barriers down by providing innovative and sustainable solutions, something we will continue to do.
UPS has been spearheading partnerships to ignite a new conversation about urban logistics, which has revealed innovative ways to deliver and collect packages whilst minimising congestion and pollution and promoting operational efficiency. Solutions such as e-bikes for last mile deliveries allow us to reduce the number of delivery vans in congested urban areas, which in turn reduce carbon emissions, improve air quality and remove the challenge of curb side access.
In the UK, the rolling laboratory consists of electric vehicles, which have been part of our fleet since 2008, natural gas tractors and, more recently, range-extended electric vehicles, which allow us to serve long-range routes while still operating as a fully electric vehicle in urban areas. This ultimately helps in our goal to have 40% of all ground transportation fleet fuel from sources other than conventional gasoline and diesel by 2025.
I recognise that solutions such as electric vehicles might not seem like a viable option for smaller businesses due to costs and limitations with charging infrastructure, that is why projects like smart electric urban logistics (SEUL) are so important. With partners and with support from government, UPS have worked to deploy a radical new charging technology at our Central London depot to overcome the challenge of simultaneously recharging an entire fleet of EVs without the need for the expensive upgrade to the power supply grid. This project, combined with other advancements that we are making in reducing the cost of the electric vehicle means it will only be a matter of time before the acquisition costs to put an electric vehicle on the road, including those associated with powering the vehicle, will be lower than the equivalent costs of its diesel counterpart.
Since 2000, UPS' alternative fuel fleet has driven more than 1 billion miles globally, saving more than 60 million gallons of conventional fuel – but we won't stop there. UPS and I personally are invested in driving forward the industry in the sustainable space, helping make the transition possible for businesses – no matter their size. I truly believe most companies are trying their best to take the steps towards making their business a sustainable one, but it's up to companies like UPS to help provide the research and resources to make this possible.
Ultimately, urban logistics is not easy, but it is possible. It will take time, investment and collaboration between industry, government and civil society, but it's an achievable goal.
Share this blog via your own channels:
Members can download the social media image resources available for free from our Communications Toolkit. Don't forget to tag us #BVRLAblog @bvrla.