The BVRLA Dinner returned last week, bringing people together from across the membership to celebrate the contributions of the industry and resilience shown in recent years. The evening also saw the association name five individuals who are setting standards for others to follow.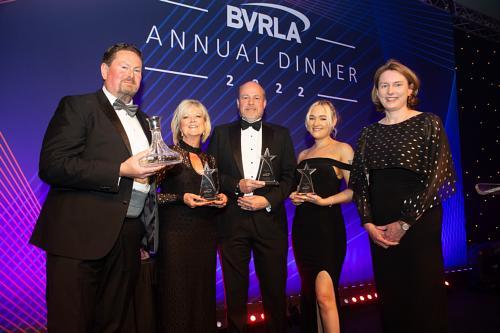 Opened by outgoing Chairwoman, Nina Bell, the event gave the 750+ delegates a chance to connect with colleagues old and new before later being entertained by top comedian, Rob Beckett. Donations were collected all evening for automotive charity, Ben, raising thousands of pounds to support Ben's work.
The event saw the BVRLA name its three peer-nominated Industry Heroes, as well as the top performer on the association's e-learning platform and the prestigious Freddie Aldous Outstanding Contribution award.
In memory of the BVRLA Honorary Life President who passed away in 2017, the Freddie Aldous Outstanding Contribution Award is presented to an individual that has made exceptional contributions to the industry overall, while committing significant efforts to support the work of the BVRLA. This year's award went to Lee Hamlett, Commercial Director, Kinto UK.
Presenting the award to Lee Hamlett, BVRLA Chief Executive, Gerry Keaney, said: "When it comes to Residual Value and Remarketing, there is nobody that has given more to represent the sector, help educate those around them, and raise overall standards, than Lee. The sector would be in a different place were it not for his continued commitment and palpable passion."
The BVRLA also had named Sue Palmer from Finance One Limited as the Learning & Development Achiever of the year.
The three Industry Heroes have turned in exceptional performances in their respective fields and made an extraordinary contribution to their organisations:
Ella Marsden of Tusker, for being a passionate advocate of teamwork in customer service and overseeing a year of exponential growth.
Chris Chandler of Lex Autolease, for being a key advocate for the industry in the transition to zero-emission vehicles, helping many businesses make the switch.
Jacky Brown of Alphabet, for consistently taking proactive steps to protect the team's wellbeing, maintaining morale while ensuring the team could keep up with an exceptionally busy year.
View the photos from the event on the BVRLA's Flickr channel.
The BVRLA Annual Dinner will return on Thursday 2 March 2023.