Public affairs specialist Marc Woolfson shares some insights following the recent political Party Conference season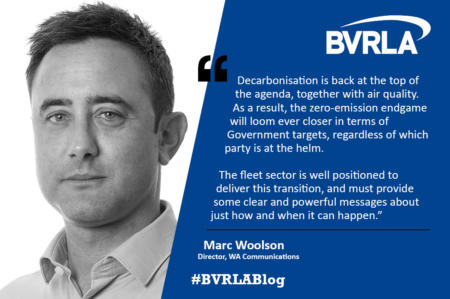 During times of political turmoil it can be hard to find any substance amidst the melodrama, secret briefings and grandstanding. During, this political maelstrom, which has ranged from Parliament to the Supreme Court and been played out across social media – there have been doubts that some of the traditional political set pieces - the Party Conference season and the Queen's Speech - would even go ahead.
Thankfully, despite the carnage outside, they did, and there has been much to learn for the BVRLA's members.
Given the protests raging across London last week, it is perhaps appropriate that climate change and the decarbonisation agenda took centre stage. Nowhere was this more obvious than in Brighton, where Labour members voted for an "ambitious" plan to reach net-zero emissions by 2035. While this was the headline grabbing policy, it was the announcements surrounding electric vehicles which caught the eye. Calling for all business car fleets to be fully electric by 2025 is a bold statement and a recognition of the importance of the fleet sector in achieving net-zero, supported by a new scrappage scheme and removal of the VED surcharge.
What's more, Shadow Chancellor John McDonnell announced loans of up to £33,000 to allow low income households to purchase electric vehicles. Shadow Transport Secretary Andy McDonald said decarbonisation was the key priority for Labour's transport policy, superseding even nationalisation.
Where Labour's Conference was heavy on policy announcements – and no small amount of infighting – the Conservatives in Manchester went for a much less substantial affair. In keeping with their minimalist slogan the event was light on policy, perhaps epitomised by the leader's own speech. This was a pre-cursor to an imminent election campaign - much like this week's Queen's Speech. However, Transport Secretary Grant Shapps' penchant for electric vehicles already appears to be having an impact, with rumours that a ban on the sale of petrol and diesel cars could be brought forward to 2035.
While Conferences are generally geared towards energising the activist base, particularly in an era where the fringes have become the mainstream, there was much to take from this round. As always, much of the real policy debate took place away from the main hall. For all the events setting out the evils of global capitalism or the importance of an immediate no-deal Brexit, there was serious discussion of the short, medium and long-term landscape for vehicles in the UK.
Decarbonisation is back at the top of the agenda, together with air quality. As a result, the zero-emission endgame will loom ever closer in terms of Government targets, regardless of which party is at the helm. The fleet sector is well positioned to deliver this transition, and must provide some clear and powerful messages about just how and when it can happen.
Share this blog via your own channels:
Members can download the social media image resources available for free from our Communications Toolkit. Don't forget to tag us #BVRLAblog @bvrla.