Writing for EV Fleet World Magazine, the BVRLA's Senior Policy Advisor, Catherine Bowen explains why a phased approach is key to decarbonisation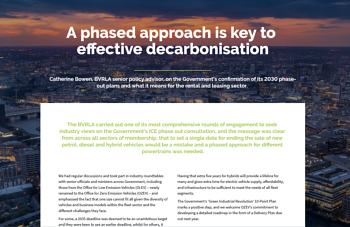 The BVRLA carried out one of its most comprehensive rounds of engagement to seek industry views on the Government's ICE phase out consultation, and the message was clear from across all sectors of membership, that to set a single date for ending the sale of new petrol, diesel and hybrid vehicles would be a mistake and a phased approach for different powertrains was needed.
We had regular discussions and took part in industry roundtables with senior officials and ministers across Government, including those from the Office for Low Emission Vehicles (OLEV) – newly renamed to the Office for Zero Emission Vehicles (OZEV) – and emphasised the fact that one size cannot fit all given the diversity of vehicles and business models within the fleet sector and the different challenges they face.
For some, a 2035 deadline was deemed to be an unambitious target and they were keen to see an earlier deadline, whilst for others, it would be a near impossible challenge, so we were pleased to finally have a date confirmed in November and a phased approach be taken with 2030 being confirmed for petrol cars and vans, and 2035 for hybrids.
Having that extra 5-years for hybrids will provide a lifeline for many and gives extra time for electric vehicle supply, affordability, and infrastructure to be sufficient to meet the needs of all fleet segments.
The Government's 'Green Industrial Revolution' 10-Point Plan marks a positive step, and we welcome OZEV's commitment to developing a detailed roadmap in the form of a Delivery Plan due out next year.
To stimulate green growth and achieve the ambitious phase-out dates, policymakers must consider the approach for cars and vans separately when developing this Plan, acknowledging their differences. Additionally, they must focus on:
a set of weighty tax incentives and grants to drive demand
the creation of the UK as an attractive market for EV manufacturers
a comprehensive strategy on charging infrastructure to ensure an adequate supply of affordable, accessible, and reliable public charge points and incentives to unlock private sector investment.
Our new independent tax modelling report from Cambridge Econometrics shows that the Government will need to invest nearly £100 billion between now and 2050 if it is to have any chance of meeting its phase-out target for the new car market. Delivering the UK's Green Industrial Revolution will be costly but creating a greener road transport system is a common goal that unites us all.
Today, (9 December), the Committee of Climate Change has published its Sixth Carbon Budget report today, stating that all car and van sales should be fully electric by 2032 and advises on a ban on the sale of new diesel trucks and lorries by 2040.
We already have an ambitious target for phasing out the sale of new petrol, diesel and hybrid cars and vans and to change that now would cause confusion. The Government must regularly review progress against existing targets and should take steps to ensure that all road users and fleets have a realistic path to decarbonisation.
Upgrading fleets and refuelling infrastructure to adopt hydrogen or battery electric technology will be very expensive and the Government will need to help operators absorb that cost burden. Many trucks travel huge distances, cross many borders, and rely on public fuelling facilities, so UK policymakers will need to align their freight decarbonisation strategy with other countries.
We welcome the Government's decision to carry out a separate consultation for heavy goods vehicles, which we hope will acknowledge the unique and complex challenges faced by heavy goods operators and provide a clear technological roadmap for HGV decarbonisation.
We will continue to work closely with members and policymakers to ensure that this important sector's voice is heard.
At the BVRLA's 'Fleets in Charge' event in October, we unveiled an updated Plug-in Pledge, outlining the vehicle rental, leasing and fleet industry's commitment to owning and operating around 900,000 Battery Electric Vehicles (BEVs) within five years.
The Pledge, which sees a target of the sector registering 400,000 BEVs per year by 2025, making it responsible for 80% of new battery electric car and van sales, was welcomed by the Transport Secretary Grant Shapps MP, who acknowledged our members contribution to achieving the UK's zero emission goals, saying:
"It's fantastic that so many BVRLA members are making commitments to introduce zero-emission fleets ahead of the Government's phase-out target. BVRLA members are fundamental to the transition to cleaner road transport."
The December 2020 issue of EV Fleet World is out now.